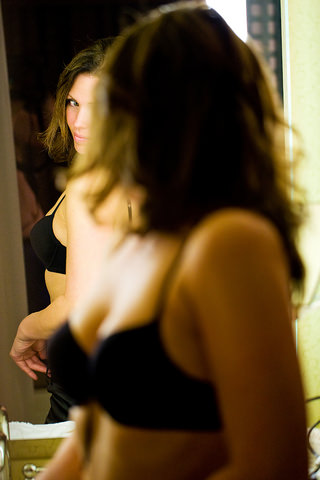 Since joining the Lifestyle, I've had many experiences that seemed dream-like, almost hallucinatory, because they came at me from outside of the vanilla frame of reference I lived within for most of my life – that having anything other than a two-person, monogamous relationship is unthinkable.
These surreal moments have all been easy to laugh at later, but when one of them strikes I almost have to check to be certain that my mouth isn't hanging open. I have a few favorites so far.
I had just about reached the point where I could understand the concept of completely open play when I met a couple who each regularly spend time alone with various girlfriends and boyfriends. But I wasn't quite prepared a few hours after meeting them for the text Mrs. sent giving me permission to "do anything you want with my husband. Love you, baby!"
That was at the top of my list of head shakers until her husband contacted me the next day. "Tonight I'm going to fuck my wife and call her by your name."
It wasn't the first time I learned that other people were using me as fuel for their fantasies. A hot couple sent to me a topless photo of the Mrs. after our first dinner date. That apparently led to fun, dirty talk about having me between them in bed. How do I know? They told me.
I guess that by now I should expect the unexpected, but people in the Lifestyle can and will say things that even the Hubble Telescope would not have seen coming.
A new friend recently asked if she could set me up on a date to the local swinger's club – with her husband. The next night he threw this at me: "We want you to be my girlfriend. We talked about it."
I'm not used to being quite this popular, but one of my male friends has encouraged me to find more playmates and share the details. He gets turned on by a woman in control of her sexuality. Given what we're all taught to assume about men and jealousy, do I even need to explain why I had trouble wrapping my brain around that?
Of course, I've surprised myself, too. After a more-or-less anonymous encounter with a single guy at the local Lifestyle club, I heard myself say, "So do you want to exchange numbers or skip it?"
It hit me in that moment that I truly didn't care if I never saw him again and that I wasn't embarrassed to be going home with only the memory of a thoroughly enjoyable sexual experience. I was liberated from wondering if he would call, what he thought about me and, best of all, that self-flagellating second guessing if he didn't call later. I wish I had figured out how to do that in my 20s.
But I think I managed to turn the tables on shock value the first time I went to bed with a couple. While holding a condom in one hand, I turned to the Mrs. and asked, "Can I really have your husband?"