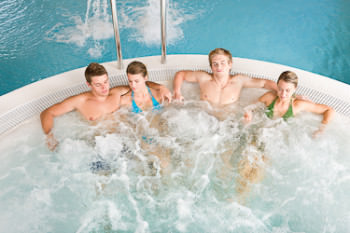 Part one told of my return to the club on bisex night and my first mmf three-way. The adventure continues…
After heading back to the bar, I admitted to myself I did not know all the things I would need to know for these kind of adventures. I asked the girlfriend after some hemming and hawing, "Ok, I give up, how do you suck a cock without fighting the gag reflex?" She really opened up in answering, "I can't, at least not when he is hard. When he is semi-hard it is no problem but I can always feel that reflex a little." The woman in the older couple joined in the conversation and gave me some pointers as well. "Just breathe and stagger your inhale and exhale and relax! You will need to relax to stretch your throat!" I never got this kind of education in sex ed. After another round of club soda we all agreed to head back to the room for a truly freaky five-way. We kept rotating mouths on cocks, mouths on pussies, pussy on cock, what a wondrous glorious experience. THIS is what I have been looking for since I began. THIS was the goal I set for myself, and all I had to do was to let it go, stop reaching for it and just let whatever happens happen. At one point the two ladies were in a 69 while all three men were sucking cock. At another point the couples traded partners. I loved how the bodies were continually moving one to the next, one person playing jazz on the other they had in front of them. Older male seemed to be the best at cunnilingus (practice makes perfect) while younger female just watched me smile and smile, wondering at it all.
During the five-way some of the single males gathered at the doorway (was that envy on their faces?) and a few of them came into the room. We did not place a rope over the entrance, so I suppose that was fair game. Several joined in the oral play, my other four partners having no problem adding more to the mix. I accepted these additions as something of a mixed bag. On one hand, only weeks previously, I was absolutely in the same space. Not having any other way to cross the threshold between watching and participating, just bungle on in and hope for the best. But at the same time…who asked you to come in? I invested time and a bit of myself talking and finding shared ground with these wonderful people. And without so much as a by your leave, I have some strangers cock near my face who's name I don't even know. I reached over, and against my better judgment gave it a brief suck. In truth I felt a little sorry for him, and recognized myself in his situation. I would imagine I am not the first swinger to feel that way. I am sure there are lots of women (and perhaps a few men) who found themselves in a very similar situation when playing. I can't say it was pity or guilt… maybe inertia would be a better term, not wanting to spoil the sexy. I suppose that would be my first "Taking one for the team" which is an immense irony since I swing single. But soon I stopped, and focused exclusively on my other partners from that point forward. "I will not do that again," I vowed to myself, "I will play only with the people I decide I want to play with and if that little voice inside my head says 'this is a bad idea' then it most certainly is!"
Even during the most amazing experience so far, even with all the good advice Swingset has given me, I cannot help but learn the hard way sometimes.
I don't know how long we played together but Ropes (remember Ropes? This story once had Ropes in it) wanted the key to the locker to get more smokes. There are few things funnier than 7 or 8 naked people trying to sort out whose clothes are whose. An accidental stroke of luck gave me a rule for next time. Since almost every male wears black socks, try to pick a pair with an uncommon logo to make the post-play sorting resolve a little easier. And don't wear too many accoutrements to the swing club, they only get in the way later. We dressed, but not without laughter.
While Ropes smoked, we headed back to the bar for hydration and refreshment. Older woman (God I hate that term, I hope she will forgive me if she reads this) asked if she could suck my cock right there at the bar. I still had not cum, but at this point I didn't think there was anything anyone at the club that night hadn't seen (not true there was no anal, but I digress…) I accepted and had a wonderful little public blowjob to finish the night. I didn't ask for the two couples contact info (I should have and will if we meet up again) and amazingly I didn't cum. I find that fact a little short of incredible, an evening worthy of Penthouse Letters, five different partners (six if you include anonymous male) and no orgasm. But by now it is starting to dawn on me that the cliché about it being all about the journey not the destination is more true than false. I am also fairly sure that this might not be uncommon among the swing community. I am beginning to get philosophical about it. If you want to just come, jerk off. If you want an opportunity for a fantastic evening with wonderful people who get to be play partners as well, then swing.
Authors note (this should really be an article all its own):
You may have notice nowhere in these articles so far is safe sex mentioned. I do practice "swinger safe" sex, which is vaginal/anal with condoms, but oral performed bareback both giving and receiving. This appears to be the same criteria for all the partners I have played with. These guidelines will lessen the risk of STI, but does not eliminate it. I had my SDI screening before starting this path, and will have another in the months ahead. I disclose the number of lovers I have with my doctor, but have not yet mentioned to her the bisexual part. I had not actively disclosed my guidelines prior to playtime with any of my lovers, but I intend to talk more about it before playing in the future. The "elevator speech" idea (it's in the podcasts, just don't ask me which) is brilliant and I hope to practice it next time I visit my club.