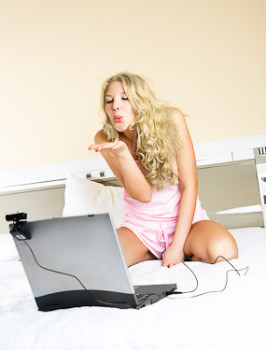 To cam or not to cam…
I was introduced to camming by a very successful camgirl about 1 year ago. She was doing it part-time and making so much money that she was contemplating quitting her day job to just cam full-time. She was so excited by it that it rubbed off on me. I went home that night, logged onto MFC (MyFreeCams), and "studied" the rest of the week. I love when research involves sexy naked ladies!
My progression into modeling on cam really started with photography. About 5 years ago, I got into modeling, specifically pin-up and fetish photography. I was new into the kink scene and wanted pictures to put up on my FetLife profile that weren't taken with a cell phone. I reached out to photographers on Craigslist, being very careful with who I was willing to see – and what I would let them see of me. With that kind of photography, models have to be super cautious. I routinely stalked the models of future photographers to ask them about their experience. I've gotten responses like, "He takes great images, but he will expect sex in return." And, "He'll ask you to do lots of things, even if you've said you don't want to, so stick to your guns, and you'll be okay. Otherwise, he's harmless." I saw listings like, "WANTED: MODEL THAT CAN DEEPTHROAT FAT COCK!"
Uhm… No. Hell to the no.
Most of my experiences were very positive because I was able to weed out the creeper-predator types. The field of photography is saturated with random dudes with a Canon who call themselves photographers, when really they just want to meet hot women. It's a fine ploy, and can be beneficial to the model if said dude has any talent – but most don't. What, I'm not bitter, you're bitter, shut up. Okay, photographer rant over.
Through modeling I got to develop my model-persona. The shy, innocent girl-next-door with a ball gag. I also got countless amazing images (and some really shitty ones – it happens). I learned how to pose and what lighting and angles compliment my round face, the way to arch my back so my small-ish boobs and flat-ish ass looked banging, the way to style my hair, and how to do make-up that accentuated my features. I'm still not perfect at all of these things, but modeling definitely helped bring me to where I am today.
From there, I got into burlesque, having shared the same photographer as the leader of one of the local troupes, it was easy to make my way into the community. Burlesque taught me how to shake my curves in a pleasing manner, how to feel comfortable with lots of eyes on my skin, and how to truly appreciate my body for what it is. I love this art form and hold it close to my heart as it has done so much for my self-confidence and esteem over the years.
Putting all of these things together gave me a great head-start in the camming world, but it still wasn't enough to be a great camgirl. Camming takes dedication, networking skills, time (on and off cam), patience, a good sense of humor, creativity, and being good at sales. Sex work is all about the money. This can be a fun job, where one gets to meet and chat with really interesting individuals, but this is a job, and that job is about money. Any camgirl that says it's about something else is lying – which is another attribute girls have to get great at: lying your pretty ass off. To make money at camming, girls have to know how to sell themselves, how to up-sell themselves, how to balance quality and price, and how to earn that extra dollar. A lot of cam-watchers are scam artists that want something for nothing, so girls have to learn how to play the player. Many new models get taken advantage of and scared off within their first week on cam. Knowing how to play the game is essential. Luckily, models get to make up the rules as they go.
I decided to be a camgirl about a week after speaking to my (now top-tier) camgirl friend. I've had some great experiences ever since (and only a few shitty ones). I hope to get to the level my friend is at one day, and I'm learning how to play the game better and better with every show I do.