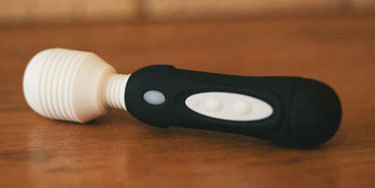 I love my Hitachi Magic Wand. Nothing quite does the trick when I really want to have an intense, quick, wet orgasm. After chatting with Clare from Smitten Kitten on Episode 57 where we discussed our favorite sex toys for the year she mentioned the Vibratex Mystic Wand. I was very intrigued after her telling us how powerful and strong this wand is. It's hand-held and there's no cord. Knew I would have to try it out to really compare for myself.
Before we even had a chance to purchase the Mystic Wand for ourselves, we received a wonderful early Christmas present from the Smitten Kitten. I came home one day to find they had sent us a Mystic Wand to try for ourselves. I was so thrilled! What an awesome gift to get. I couldn't wait to try it out.
The Mystic Wand has a very soft, sleek, flexible silicone head that is made for direct clitoral stimulation. It uses 4 AA batteries instead of a long plug in cord like the Hitachi. Comes with a plush, black pouch for storage and is water-resistant. The wand has 3 pulse speeds, 3 patterns, and green, yellow, red flashing light indicators telling you what speed and pattern you're on. Plus the wand is very light weight and easy to hold.
Cooper was also very excited about the Mystic Wand and wanted to try it on me as soon as he got home. I was all set with my towels, notice I said towels there because you never know when a massive explosion might happen, and he turned the Mystic Wand on and pressed it against my clit. Within like 3 seconds, I'm not kidding, I was expelling my juices all over him and myself. I think it even got him in the face, good thing I had plenty of towels handy. I was totally floored by how quickly I came and how quickly I came time and time again after that. Each a massive orgasmic gush. Was wonderful how soft and gentle it felt on my skin, but at the same time how powerful and intense it was.
Then next we decided to put the Mystic Wand in between us as we fucked. We were impressed by how compact it was and never felt like it was in the way. The whole time we could both feel the deep, extraordinary pulses and got me to cum multiple times. It was fantastic! There aren't many toys that we can have in between us that we can both enjoy.
I also got to try the Mystic Wand on a girlfriend of mine at a party. She absolutely loved it! Was squirming and moaning and when I found that perfect spot on her, oh my! It sounded like she was ready to explode. She responded so well to it. When she was ready to take a break and I removed the Wand from her, her clit and pussy were so swollen red. I knew I did my job. I was very happy with the Mystic Wand.
I was blown away with how much the Mystic Wand is just like the Hitachi. It might not cover the same amount of surface area, but it can do everything the Hitachi can do and get me to cum in only a few seconds. I highly recommend trying the Mystic Wand by Vibratex out for yourself and see how amazing it is. I can't wait for many more amazing and thrilling orgasms.
Thank you again to the Smitten Kitten for such an orgasmic and fantastic sex toy. You are the best!
Full Disclosure: We did not purchase this product, it was sent to us specifically for review. Our policy is to, regardless of how we acquired a product, review it fairly and openly. No writer for Life On The Swingset will ever deliberately mislead our readers into believing that a product is good because of anything we received from the company. We are open and honest, and cannot be bought or bribed. If we love a product, we'll tell you, if we don't, BELIEVE us, we'll tell you that too. End disclaimer.