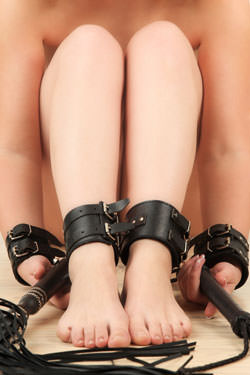 Finding people in your area to mingle with as a bondage related individual may seem next to impossible. Like swingers, poly couples, and other sexual "deviants", (I mean that in a good way!) BDSM'ers do not openly advertise in the every day vanilla world. So, in an effort to meet new people in the community, I often suggest that new comers join different bondage related sites.
I have been a member of some of these sites, and thought that perhaps a review of the ones I frequent would be in order. In an effort to bring you a better on line experience in the BDSM community, I have also self-spammed and joined a few extra just to see what the feel was like so I could bring you some better idea of where to go. This may help many of you, or at least I hope it will, but my honest hope is that you will look for munches and local groups that can get you active and experiencing all of the wonders that this lifestyle choice has to offer.
Collarme.com – Collar me is where I started in the BDSM community. It will probably always be my home site, just because of the entertainment value. When I joined CM, it was kind of small, there weren't that many "extras" to the site. As time has passed, however, the creators have added things like audio and video greetings, games, chat rooms, and a few other neat little things for people to look at.
The greatest thing to me about CM is the message boards. There are some very intelligent people there, and most are willing to openly and honestly answer any questions you have. Now, realize this is a global community, so you will of course get some snarky replies to questions that may be deemed ignorant, thoughtless, or just plain silly, but you will get a reply. Cosmetically, they are attractive in that there are smileys, members can use either their own photo cropped by the site to avatar size or they can choose to use one of the thousands of clip art avatars that are available.
In my honest opinion, if you use this site, and you do not use the message boards, or at least visit them and read them, you are doing yourself a grave disservice. That's where the real meat of the site lays! There is open discussion about politics, bondage, poly and so much more that a person could sit and read for days, and still not have ingested everything that these vaults have to offer.
Fetlife.com – Fetlife, to me is like a social networking site for the BDSM community. Basic features like photo sharing, status update and commenting, video uploading and writing that is akin to blogging make the site pretty fun, but I kind of feel like it is a bit difficult to navigate for new users. I will say that periodically fetlife has little contests where you can win gifts from supporting vendors, in fact, a year or so ago I won an awesome collar with a heart shaped lock and key. I actually still have it, and wear it from time to time. (Thanks NotNilla Designs. I love that thing!)
Another great thing is that they have a search feature that allows you to search in your area, which makes it nice if you are new to the area, or new to the lifestyle, and don't know how to go about getting your feet wet.
SubsandMasters.com – I do not go to this site. I started to join it, but to be honest, when I got to the set up process and it asked me about my billing information a total of 15 times (in fact every single time I input any information, which makes the sign up process take FOREVER.) I decided it was not worth the drama. The great thing is the giant box in the middle of the billing information says "Join now and get laid." I'm thinking there may be mail order hookers in my future. I will keep you posted.
Alt.com – I used to use alt pretty frequently. It was a decent way to talk to people, and it seemed to me like it was okay to navigate. I hadn't logged into the site for several years, so when I directed my browser to it, I was shocked to see that I was logged in already. It seems that alt and subsandmasters are a working pair. :/
In totality, I can tell you that choosing a site that you visit is a personal choice. I can tell you, also, that nothing beats real experience. Getting out, getting social and meeting local people to show you the ropes (how to get in and out of them anyway) is going to be the best thing you can do for yourself as you grow in this lifestyle. Many times checking with your local adult toy store is a good way to find out if there are groups locally that you can join. If the toy store people can't tell you anything, then I would suggest checking out CM or fetlife, or just google searching until you find a site that is right for you (there are about a million bdsm sites, by the way) and checking to see what their regional settings are in terms of groups. Asking people that are also members of sites like these and that are local to you is another good way to find munches, expo's and play parties that you can attend to make new friends close to home.