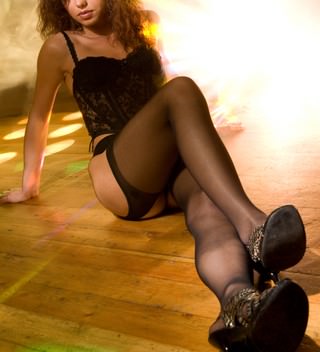 After some lifestyle experiences that have left us somewhat confused and questioning, we had a wonderful evening that reaffirmed why we are in the lifestyle in the first place. The evening was fun, sexy, and comfortable.  No drama and some really hot times.
We made plans to meet a couple Midtown at a swinger club. We've met this couple a few times before but never played with them. Several other attempts to arrange a plan with them have always fallen though, so we were happy that we finally were able to connect with them after two years of trying.
Our evening began with drinks, food and conversation. They are smart, funny and easy going. They have many years experience in the lifestyle as we do, so enjoyed sharing stories with them and hearing about their experiences. Finally the dance floor picked up enough that we all headed out the center of the floor for some bumping and grinding that was hot, hot, hot.  I was wearing a very low cut black dress and my nipple kept slipping out as I danced with Mr. Midtown. I kept pressing my ass against his cock until became rock hard and I knew he was good to go. Mrs. Midtown and I pressed our tits together and pushed our pussies hard into each other's legs as the four of us swayed in one motion during one pulsing song.  Mr. Doubleplay and I love ramping up the heat with some intense dirty dancing.
It was early in the night but we were all ready to head back to the playrooms.  We grabbed some waters and towels and found a private room for the four of us. Mrs. Midtown and I started with a girl show. She was slow, deliberate, and oh so sensual. I wanted both cocks in my hand while she was driving me crazy with her very skilled tongue. But we switched places and I did what I do best until she came with a huge sigh and shared her appreciation for the amazing orgasm that she experienced.
Then it was time to give the guys more attention. She gave Mr. Doubleplay a masterful blowjob while I bumped and grinded with Mr. Midtown. The chemistry between Mr. Midtown and I was electric. A simple kiss set my pussy on fire. This chemistry was a special treat since usually Mr. Doubleplay and I are much more attracted to the woman than I am to the man. Not so tonight. Mrs. Midtown was lovely, but it was Mr. Midtown that made me crazy with amped up sexual energy. He finished the job that Mrs. Midtown had started but sucked my clit oh so tenderly. Mrs. Midtown had started fucking my man on top and watching them moan while being sucked so expertly sent me over the edge with a powerful orgasm.
I then gave Mr. Midtown an orgasm that was enough to cause him to moan but not enough that we couldn't have some intense sex. I admit I wore him out. We were at it for a very long time. At one point he put a pillow under my hips and started fucking me so hard that my eyes rolled back in my head with orgasm after orgasm.
When none of us could go anymore, even though we wanted to continue all night, we headed to the hot tub to relax. We had hopes of a second round but were all too tired to go again. But we promised that we wouldn't wait two years for another reunion.