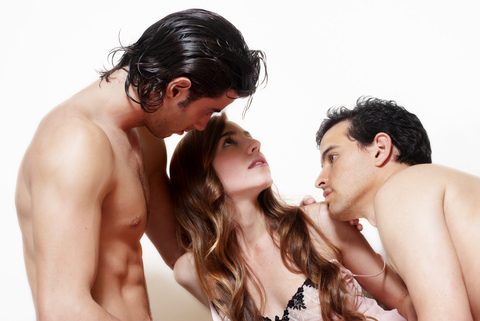 We three found the Lounger around 10 pm in the basement.
We left the party in full swing upstairs after my tongue entangled with hers, husband behind her kissing her neck and cheeks, I popped each button open, one at a time, he took over duty kissing her deep and long, making it last, making her swell. She didn't feel self conscious at all as I slid her blue shirt off her shoulders and back to the floor. As I buried my face between her heaving breasts, her suggested maybe we ought to find someplace a bit more secluded.
And find it we did. In the darkness of the basement was the most amazing sight. Enormous, encompassing, as though an ancient god had left a throw pillow on earth and someone had built a house around it. The red fabric was soft and inviting and we climbed into the massive Liberator Lounger. We sank down, we three, as if on a cloud. The way we always imagined sex would be in some hedonistic and fantastic version of Heaven.
He returned his focus to his wife, running his hands through her beautiful hair, dancing his tongue with hers between her lips. I watched this couple a while, saw their dance, thrilled that I was being asked to join.
She arched her back as I slid my hands under her, allowing me to unclasp her bra and reveal her perfect breasts to the gods, surely watching this rendezvous. Her nipples rose to meet my lips and legs spread to allow my hand to find the warmth below.
We stayed like that a while, writhing, our focus entirely on her.
She was hungry for more though, and in a flash, his belt was undone, zipper dropped and cock spilled out. She stroked it as she made eyes at me, then him, then back at me, smiling a devilish smile as I slid her jeans and panties down at once.
I knelt beside the massive cushion, putting my feast at the perfect height, and she moved to take his cock into her mouth, I dipped to the warmest point in the room, her waiting lips, glistening wet, clit throbbing, begging for attention, desperate.
I tossed her clothes aside and dove in.
She pressed her thighs to my ears, drowning out the sound, all except her moaning, loud enough that I'm sure even the revelers on the floors above could hear that there was something wonderful happening in the playroom. My tongue slid deep within, tasting her essence, her hand sliding through my hair, pressing my face to her, moaning ever louder.
"Do you have a condom?" he asked.
I looked up from my feast and both of them smiled down at me.
"I want you inside me," she said.
Before I even processed the request, I had already gone and returned, open condom in my hand, then on my waiting cock. I climbed back onto the Lounger with them, and slid into her, as she resumed her very own feast, his hands in her hair.
He and I smiled at each other, sharing this amazing woman, sharing this wonderful moment. Her body so warm and inviting, her eyes closed in ecstasy.
When my own eyes rolled back and I exploded inside her, the residual motion of the cushion rocked us three, as he gave her his thanks as well, and we all lie back on our crimson cloud to bask.
The door opened and there stood my wife, nude from head to toe, a Venus de Milo silhouette. "How're you guys doing?" she asked.
"Wonderful," we told her.
"Save any for me?"
We nodded eagerly, and she climbed aboard.