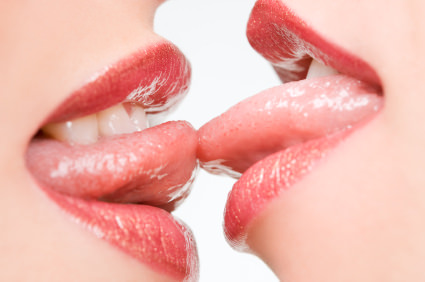 That's me!  I'm the Unicorn.
So what is the Unicorn, you ask?  According to urbandictionary.com: "In swinger lingo, a single female (often bi) sought after by many couples. They are thought to be so rare that they have attained the status of mythical creatures."  Essentially it means that if we meet and like each other, I will fuck both of you.
I have been told that many swingers go through their entire swinging "career" without getting together with someone like me.  That's a shame because I have made many couple's dreams come true.  A FMF is every man's fantasy and I get the distinct pleasure of being able to fulfill that fantasy.
I realized, early in my swinging, that I enjoyed being the Unicorn because I got to explore my bisexuality more.  I found myself really getting into the woman in the couple and leaving the man out.  I thought it would piss him off, but most of the men in couples have been VERY OK with watching his partner with me.  And I have to admit, I like putting on a show from time to time.
Most (probably 90%) of the couples I have met in the lifestyle are very respectful to the single girl.  Hoever, there are some couples that believe that they can bag me if they send me an email similar to the one below:
"Dear Saucy Wench,
My wife and I live in (insert city here – which is about 4 hours away from me) and would love to get to know you.  We would love to invite you down to stay with us for the weekend.  We have a very large house with a pool and a hot tub.  You are welcome to stay as long as you like.
We hope that you would consider coming down this weekend.  We look forward to playing with you.
Smooches,   Frank and Nancy"
Really?  You actually think that I'm going to drop everything I'm doing to drive 4 hours to meet a couple that I've never met before and spend the weekend in their house?  I'm sure there are lots of people out there that don't mind travelling to meet complete strangers for the express purpose of fucking.  But y'all gotta remember, that I'm a single woman in the lifestyle…it's just not safe for me to do that.  Nor do I want to.
My Unicorn experiences at the swingers club have been pretty stellar.  My best friend is a bartender at the one I frequent the most, and I feel incredibly comfortable going there alone and sitting with her all night.  I usually run into several friends while I'm there and I have a ball.  But I always know that I can take off if I'm not feeling it that night.  I've also gone to the club with other couples, on a date.  I have introduced many of my friends to the couples that I bring in with me.  We always end up in a giant fuck pile!  It's wonderful!  But there is one drawback, I'm usually the odd one out so I spend a lot of time on the sidelines watching the other couples fuck each other's mate.  Now this is not to say that I don't get my face up in someone's pussy or I'm not licking someone's balls…I am.  But at some point, the straight on fucking is getting done and I have to wait my turn.  I usually excuse myself to get water for the group – heaven knows we are all dehydrated – come back and jump back in.  I'm not complaining.  I love, love, love to watch!  But sometimes I wish I had a partner to bring to the party.
But as a single girl in the lifestyle I have to say that I have the best of both worlds.  I get to suck your husband's cock and then turn around lick her titties and finger her pussy.  Sometimes, it's good to be me!
(p.s.  Next week I'll give you a story about one of my more memorable evenings as a Unicorn!)