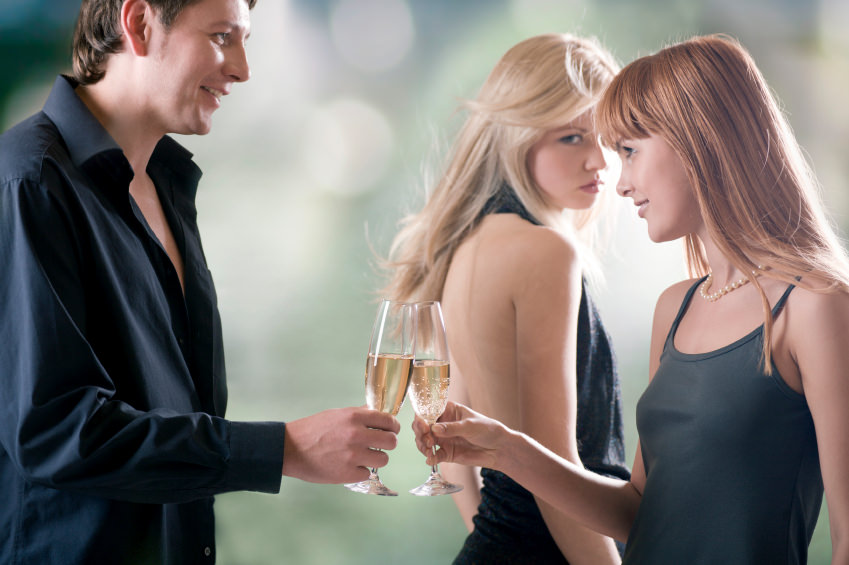 I wasn't having a great time at the orgy. Not bad, just not great. The magic just wasn't working. So I slid into my purple satin robe and curled up on a couch to wait it out. I figured my night was over.
After a while more people trickled into the lounge with drinks or snacks or just to take a break and remember what it's like to be vertical again.  We struck up a conversation and I wound up beside this gorgeous guy, serious model material; tall, dark, blue-eyed, with biceps I wanted to run my tongue over. He was also sweet and a little shy. Soon I had my feet in his lap and he was running his hands down the length of my leg, from hip to thigh to toes. Suddenly, my night was looking better.
"Do you want to find some place quieter?" I suggested.
"Um… well, I have to ask my wife."
"That's cool. Does she like to play with girls?" Could it be possible my night could get even better?
"Sometimes. Let me go ask her." He hurried off and I kept my fingers crossed. He came back a few minutes later with his wife. She was an attractive redhead, but her face was marred by this look of half-disgust. Was it me? I put on my best manners as introductions were made and we chatted a bit. She was polite enough, so I thought maybe I had just misread her expression. I asked if they attended many swing parties.
"No," she scoffed. "We don't usually hook up with people we meet at parties."
That sounded like a definite smack down of my plans to ride her husband like a thoroughbred. It also made me wonder why they came to parties at all.
When her husband suggested we all find a cubby to play in she drawled out, "Okay. I guess."
This lady was obviously less than thrilled with the situation.
Hubby left to find towels. I put on my friendliest smile for Wifey and said, "Hey, if this isn't cool, that's okay. I won't take it personally or anything. Maybe this is just a bad time."
"No. It's fine." Her arms were crossed over her chest and she was all but tapping her foot in annoyance.
"You sure? I'll just tell him I changed my mind. It'll all be on me."
"No. It's fine."
Oh. Well. Fine then.
I'm not one to cause drama or court it. There's no reason for anyone to be in an unpleasant situation, especially me. But I had done the polite thing and given her an easy, no mess, no blame way out and she said she didn't want it. Since I can't read minds I decided to take her at her word, literally.
When hubby returned with the towels, I flung my arms around him and launched into a deep, wet kiss. The towels hit the floor as his hands found my hips and glided under my robe. We tumbled into the cubby and I could hear Wifely let out another disgruntled snort as she climbed in after us.
Hubby was as good as he looked. I spent a long time with his big cock in my mouth, reveling in the pure sensuality of my lips running over his satiny skin and taking little laps at the tip where beads of pre-cum formed. He groaned with appreciation and one hand tangled in my hair to guide my head up and down.
I was breathless with sensitive, swollen lips and wetness between my legs when he finally wrenched my head up. He pulled me up and buried his tongue in my mouth while his fingers squeezed my nipples to the exact edge of pleasure and pain.
He rolled us over. His cock ground into my belly while I tore the wrapper from a condom and pushed it on. He plowed into me. Fuck, he was big. A series of high pitched yips came out of me in time with each thrust. He smothered them with his mouth. He wrapped his strong arms around me, holding me close. I arched into him and thrust back, not able to get enough contact, enough kissing, enough stroking, enough anything.
He came like a freight train, howling with pleasure and collapsed on top of me, gasping. I wrapped my arms around him, savoring his weight, his heat and the smell of his hair.
"Humph."
I had forgotten Wifey in the midst of this incredible fuckfest. I glanced over. She was sitting with legs and arms crossed. She looked like a displeased minor deity, not the kind that could fling lighting, but perhaps give you a bad head cold.
Maybe I should have bowed out gracefully. Maybe I should have saved Hubby from a later scolding. Maybe I should have respected Wifey's unspoken disapproval. But I just refused to care. I was going to enjoy this to the hilt and erase the rest of this bad night from my memory. I closed my eyes and buried my face in his hair, soaking up every second of our afterglow. This fucking was totally worth the sniffles.