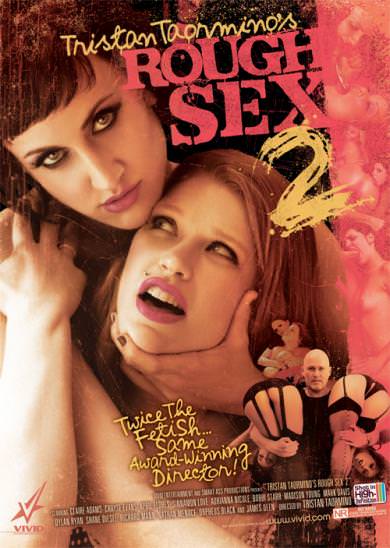 I'll start by disclosing the Prof and I are absolutely head-over-heels crushing on the talented Tristan Taormino and the smoldering Madison Young. So it is hard to prepare to review a production directed by Ms. Taormino and showcasing the passion of Ms. Young knowing that we are simply going to love what we see.
Prof and I love the foundation of Tristan's productions: that the performers themselves have significant influence over with whom they work, that the orgasms we see are real and that the kinky scenarios in Rough Sex and Rough Sex 2 found their genesis in the minds of the hot women starring in the vignettes. Wow! I mean, WOW! What could be hotter than watching the actual fulfilling of someone's deepest, kinkiest fantasy? Well, as it turns out, not much!
Both Rough Sex and Rough Sex 2 are unabashedly kinky and, as you can imagine, rough.  One of my favorite go-to sexy scenarios is from Rough Sex called "Stranded" starring Satine Phoenix and Derrick Pierce. Their chemistry is intense and I can feel his dominance in my core.  In more than one fantasy, I've played those mental images of him with me on the receiving end. Ooooh…delicious.  I share this about "Stranded" because I am convinced that the more you identify with the particular kink portrayed, the hotter the vignette will be for you as you enjoy.
Rough Sex 2 takes you deeper into the rabbit hole that is kink, fetish and BDSM; the kinks naughtier, the fetishes more unique and the BDSM more intense.  It is clear in each vignette that the sexy participants are enjoying themselves and are indeed turned on. If you don't pick and choose from the menu but start the DVD from the beginning you are immediately treated to a vignette aptly titled "Cake" starring (swoon) Madison Young, and one of my newest crushes, Dylan Ryan. The depth of the D/s dynamic is so yummy. And the premise of Madison making a cake and presenting it to her Mistress for her birthday feels sweet.  To then be a voyeur of the interaction of Madison, her Mistress and the cake is richly indulgent. I was rapt and practically panting by the time Mistress Dylan left her spent sub to do what a sub should do after a hot, messy session including cake in the kitchen.
I must admit after watching "Cake" Prof and I found ourselves quite distracted by one another. Each of the other vignettes found solid pitch with the fetishes they showcased. I found myself most titillated as we continued to watch by "Squeeze" with Adrianna Nicole, Chayse Evans, and Mark Davis picturing myself in the positions of both Adrianna and Chayse depending on my mood that night. Some other vignettes, including "Pony" and "Poker," provided many scrumptious visuals for the more specifically pervy among us. Bobbi Star and James Deen take us down perhaps the roughest road, meant in the sexiest way possible, with the most raw and primal session. As someone who loves to see the beautiful diversity of the human form, I was thrilled to see in "Petals" Claire Adams dominating a voluptuous April Flores providing hot visuals for those who appreciate sensual female curves.
Some added fun of Rough Sex 2 is the interspersed interviews of the performers and the bonus features. Throughout the video we also are treated to revealing interviews about the performers' kinky inner worlds that reinforce the genuine and passionate character of each of the vignettes. Of course, the bonus features are SO bonus, because we get glimpses of the delicious Tristan in action. That can become a stimulating vignette in and of itself!
If you are a seasoned kinkster or are just interested in peeking into that naughty world, Tristan Taormino's Rough Sex series is worth your porn-dedicated dollar.  (And I say series in hopes of Rough Sex 3!) Just know it will take plenty of nights to get through the whole DVD as each session is hot enough to incite you and your lovers into distracted action well before the climaxes. Enjoy!
Full Disclosure: We did not purchase this product, it was sent to us specifically for review. Our policy is to, regardless of how we acquired a product, review it fairly and openly. No writer for Life On The Swingset will ever deliberately mislead our readers into believing that a product is good because of anything we received from the company. We are open and honest, and cannot be bought or bribed. If we love a product, we'll tell you, if we don't, BELIEVE us, we'll tell you that too. End disclaimer.