Nearly everything of value Cooper learned about sex was learned after opening up. He's unashamed to admit, his sex was thoroughly mediocre. Thankfully, he met many people who were much better at sex and he studied at their feet and other parts, learning vast and valuable lessons. Tonight, on Life on the Swingset The Podcast, Cooper S. Beckett, Dylan Thomas, Ginger Bentham, Dirty Lola, and Dr. Liz Powell discuss their sexual failures and their sexual sherpas and the lessons they learned from them.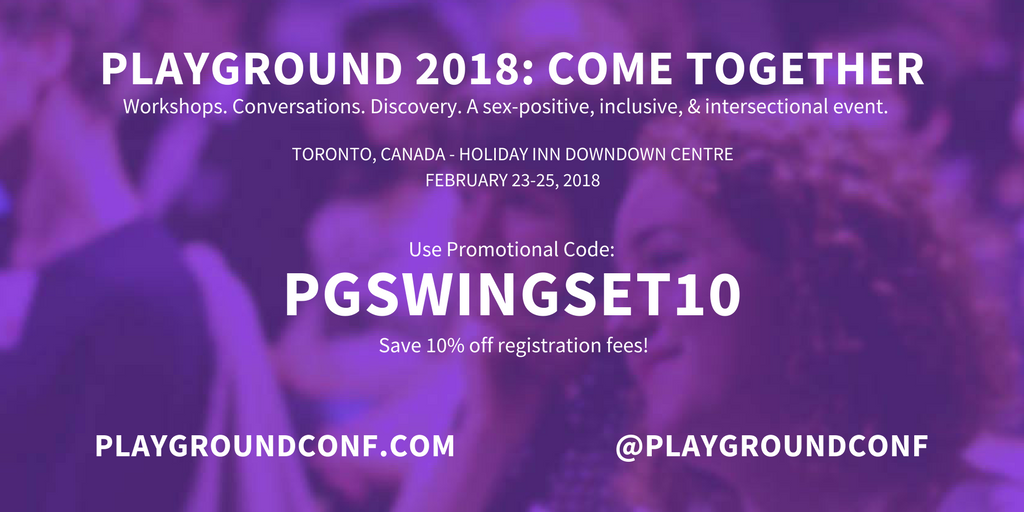 Join Dylan, Cooper, Dr. Liz, Mister Pent, Dirty Lola, and Mike Joseph at Playground 2018!

You can support us while you buy great sex toys and products from our favorite online retailer SheVibe at lifeontheswingset.com/shevibe.
Help support Life on the Swingset continue to make podcasts, and put on live panels and shows into the future! Throw us a dollar (or a few) each time we release an episode on Patreon! Your support will also get you invited to a private chat system with other Swingsetters, and give you the opportunity to join live podcast recordings.
The best FREE thing you can do to support us is leave us a five-star review. Come to our review gateway, then copy and paste your review into iTunes or Stitcher! Also, follow us on Spotify!
Android Users: Download and review our Android App!
Leave us a comment on this post or at contact@lifeontheswingset.com or leave us a voicemail at 573-55-SWING (573-557-9464).
You can now order Cooper's novel Approaching The Swingularity, his previous novel A Life Less Monogamous, or his memoir My Life on the Swingset: Adventures in Swinging & Polyamory as an ebook, paperback, or audiobook. Use promo code SWINGSET at coopersbeckett.com to save 10%.
Help Dylan edit by buying him something from his Amazon Wishlist!

Our 2017 THEME comes courtesy of Vlad Lucan and his track: Reverse!


Our Playground 2018 advertisement featured music by Krzysztof Słowikowski from his Mega Man 6 Guitar Playthrough titled: Knight Man. This track is licensed under the Creative Commons Attribution 3.0 Unported (CC BY 3.0) license.