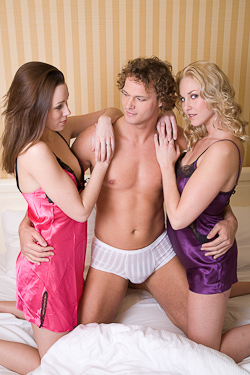 We stood pressed together, three bodies, three mouths, three sets of hands, kissing, touching, exploring. They moved closer to each other and I noticed they had an easy rhythm in their movements and caresses, a rhythm learned with experience. I was met with the shocking realization that I felt like the outsider in a threesome with my husband and our friend.
My sweetie and I have been lucky enough to get to be part of several ffm threesomes simply by asking a couple of our open and bisexual female friends if they'd be interested in joining us. I always see memes online that suggest that bi women hate this kind of thing, but I'm not sure how else you're supposed to find people other than (respectfully) asking. Thankfully, they were game, so we've had some wonderful, sexy experiences together.
The last time the three of us had been together, my husband Flick and this friend, who I will call Hot Mama, had played together only once. Our playtime had taken place in an unfamiliar club setting, so there were so many pieces of new and different capturing my focus. This time we were the three of us in the living room of our house and their connection, honed over several more solo play dates, was so apparent it knocked me rather literally to my knees. The wave of feelings was shocking to me as I sank to the carpet and tried to collect myself.
It wasn't exactly jealousy I was feeling. My compersion critter is really powerful and generally what I feel about his dates and seeing him with another woman is all kinds of happy and turned on, and even the occasionally cocky, "The guy who just made you come that hard with his amazing mouth? That's my man!"
What I felt here was left out–always such a danger button for me.
I knelt at their feet, kissing and caressing them through their underwear as I tried to figure out what to do with these intense feelings. I thought about excusing myself, but I knew that would worry them, and I didn't want to ruin their experience. It only made sense that they had this rhythm together, the sensible part of my brain reminded me. They'd been together a handful of times now, and that was bound to happen. I was even glad it was happening because it meant their sex would only get better and better, but that small tantrum-throwing piece of my brain in charge of my fear of missing out was still pinging hard.
Flick clearly noticed my mental withdrawal and knelt on the floor with me, pulling me back into my physical self and reminding me of how much they wanted me there. She joined us and their touch put my body back in charge to savour the amazing physical sensations that three bodies together can create.
Things flowed very well from there until later when she was kneeling between his legs blowing him as he sat on the couch. I moved up behind her to pleasure her with my hand and noticed that her back was covered in fresh scratch marks, which could only have been caused by Flick.
Emotions surged. He scratches and bites her? I thought. I love that and he doesn't do that for me. I felt a little sick with the unfairness of my husband giving another woman what I want, and was starting to head for a really negative spiral. Thankfully, the Cognitive Behavioural Therapy (the other CBT) that I use to manage my anxiety kicked in and my sensible brain (SB) started asking some questions of my tantrum brain (TB).
SB: Does he actually know that you like being bitten and scratched?
TB: He should. I'm sure I've moaned loudly in the past when he's scratched me.
SB: But have you told him outright that you want that?
TB: Well, no. But he should know after so many years together. It's not fair. He knows to do it for her.
SB: And do you think she told him she wants that?
TB: Of course. She has a lot of sexual agency. It's one of her awesome qualities that I most admire. But–
SB: And when do you think this conversation took place? More recently that the vague time you remember moaning as he scratched your back?
TB: Of course it was recent. They've only been sleeping together for a couple months… Oh.
This entire in-brain conversation happened as I knelt behind her, getting her off with my hand while Flick held her by the hair and fucked her mouth. I'm very happy to have tools like CBT to counter panicky thoughts with rational questions to bring myself back from the edge of a freak out. Especially since neither Flick or Hot Mama had done anything wrong.
I knew this was a discussion I needed to have with my sweetie, but it could wait until tomorrow when we had time to debrief. For now, I had two very sexy people I wanted to have fun with, and who wanted to have fun with me. If I could set aside my jealous pings, we could have an amazing night.
For the record, we did. Because I let those jealous feelings go, I got to experience the lust and excitement in Hot Mama's eyes as she watched me ride Flick, then later as I got myself off with a toy. I got to see myself in a mirror for the first time wearing my harness and dildo–Hot Damn! I got to witness the mind-meltingly gorgeous curve of her ass as I fucked her from behind while she sucked off my husband. I got to be one of the high-fivers in an Eiffel Tower. I even got some wonderfully painful bites of my own when I asked for them.
The next morning, Flick and I talked it out, and I'm going to be getting more of what I want and need. All I have to do is ask.