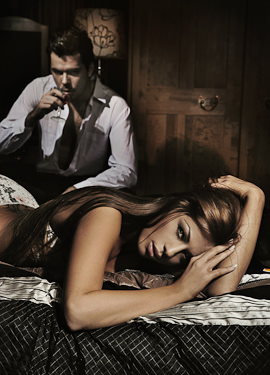 My name is Zoe Hanis and I went to my first swing club.
One of the things that I have wanted to do since Guy first introduced me to the concept of swinging was to go to a swing club. I didn't want to go alone; swinging alone was difficult enough, the idea of going to a club without a safety valve was unthinkable. Originally, Guy had said that he would take me, but there was never a good time and now that we are not together, I didn't see it ever happening.
Enter Jay. I met him on Kasidie.com <insert Cooper's commercial here>. Actually he and his wife wrote to me to ask me about polyamory. Apparently, she was interested in pursuing another romantic relationship, while allowing him to still swing.
Now I don't claim to be an expert on anything; not even the things I actually do have advanced degrees in. But I am able to talk openly and honestly about my life and experiences.
Jay and I corresponded a bit before it came to light that I have wanted to go to a swing club for months. We met for lunch and later coffee to discuss the possibility of going together as well as the rules of engagement (i.e. STI testing, barrier usage, no expectations).
Since lunch and coffee went well, we agreed to meet Saturday evening and drive down together.
I was a little worried at first about going. This was something that I needed to do for myself; something that I had been wanting to experience. I have spent far too many months relying on others to tend to my needs; it was once again time to become self sufficient.
Guy had not been keen on the idea of me going with someone besides a group of friends. I weighed his arguments against going, but didn't feel they were compelling enough to change my mind. Besides, hubby was actually all for me going. He has seen my depression abating and my ability to make rational decisions returning.
I had firmly laid out my limits and boundaries to Jay. I was going to remain clear headed so would not be drinking. There was little chance that I would be joining in an orgy, as there would be no way to discuss safety practices with the participants. I explained to Jay that while I was open to the possibility of play with another couple, I was not looking for it. He understood and agreed that if I was uncomfortable or overwhelmed, we would leave.
During the ride to the club Jay gave me an idea of what to expect in terms of staying together. Apparently, he has a "couples" mentality that seems different from what I have encountered before. But I was glad that I wouldn't be left alone to fend for myself; that decisions would be made as a couple.
The club, itself, was nothing like what I had imagined. The downstairs had a social room with a dance floor on one end, a room with a pool table, a kitchen, a couple of bathrooms, a smallish playroom and a "dungeon." In the upstairs, every nook and cranny (except the bathrooms) was covered with a bed. There were mattresses in alcoves with curtains, mattresses in lofts overlooking the other rooms; a couple rooms with two beds; one room with one bed and small and large orgy rooms with numerous mattresses.
Now I realize that there would have to be rooms with beds to have sex on, but I think I assumed it would look more like a hotel and less like it had been decorated by someone who read bad romance novels or watched low budget porn. Speaking of bad porn, it was playing on numerous televisions and screens scattered throughout the club. I didn't really understand this, as I found it more distracting than sexy making.
Jay had suggested that we get to the club early. We had not had any sexy time previously and it would give us an opportunity for some alone play time before the crowd showed up.
After the tour and a quick drink of soda, we ended up in an out of the way bedroom. The ceiling was covered in stars that were lit by the black light. The bed was surrounded by a canopy of mosquito netting which filtered the dim light from the ceiling fan above. I sprawled out on the bed as Jay went in search of towels. I had asked him earlier if I should bring some or my Liberator Throe, but he said that the club would provide. He brought back a couple of towels which I doubled over and stacked under me, but seriously doubted that would be enough.
I was horny. I hadn't had actual penetrative sex or manual stimulation in longer than I cared to admit. (Though I have admitted it to several of my friends; Hubby told me that counting was not conducive to my mental state)
Jay joined me on the bed and began to kiss me. He had told me that this evening was about me; that I could do whatever I wanted; that he would give me whatever I needed. I am used to being the one that gives; perhaps, because I rarely feel comfortable expressing what it is I want or need. He fondled my breasts after releasing them from my bustier and worked his way down to my pussy.
As I did not want my skirt to get wet, I took time out to lose the skirt. It didn't take much time at all under his manual g-spot stimulation until I was squirting. He seemed to find this fascinating and continued to get me to gush over and over soaking through the towels, sheet and into the mattress. I knew I should have put out my Liberator Throe.
For some reason, I don't seem to orgasm at the same time I squirt. I need more stimulation in order to orgasm. And at this point I really wanted to cum. "Fuck me," I demanded.
Taking a moment to put on a condom, he did. "Harder. Fuck me harder!"
Needing more I tried to flip him onto his back. It seems he takes direction as well as Guy does (which is to say not at all), so I had to "use my words" in order to get him to roll over. I rode him until I burst out into giggles and rolled over hoping to find a dry spot on the bed to catch my breath.
As wonderful as release is, I was not in a cuddling mood. I needed water and sustenance. Jay brought me a couple of Dixie cones filled with water which helped for a moment.  But I had lost a LOT of fluid so we dressed and went in search of food and drink.
(the adventure continues next week)