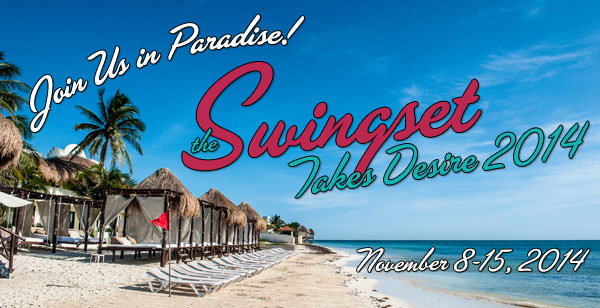 The Swingset Crew knows there's really no better place on Earth than Desire Resort & Spa in Cancun, Mexico. Our first trip in 2012 blew our socks off with not only the number of attendees, but the diversity of those couples that chose to join us on our (**ahem**) maiden voyage. We had nudists, a polyamorous quad, couples looking to explore, long time swingers, and exhibitionists. We also ran the gamut on variety of geekery. (One awesome couple brought me a 3D printed TARDIS and Dalek! They sure know the way into this Geek's pants.)
Our second trip to Desire bumped up against another tour group, limiting the amount of room we had to grow. We're proud to say we filled the rooms given without trouble, and ran into a huge waiting list for possible rooms to open up. This made us realize that we needed to lock in 2014, a large block of rooms, and announce the trip.
So, with all that prelude, Life on the Swingset announces our THIRD trip south to the beautiful Rivera Maya, and Desire Resort & Spa.  We said it last year and we'll say it again, this is not a large resort, and the number of rooms available are limited, so if you're interested in coming to paradise with Life on the Swingset, you should put down a deposit NOW! We're not saying this as a sales technique either, we just don't want to be the ones who have to turn away awesome people,
To those who haven't been to Desire before, close your eyes and picture the finest all-inclusive resort. See its beach and swimming pools, its fine cuisine, its top shelf booze, its beautifully appointed rooms and buildings…Oh, and did we mention it's full of open-minded people?! Every level of openness is welcomed here, from those just looking to watch, to those filling their suitcases with leather, whips, and chains.
Desire is a place to let go and be yourself, free from the confines of the boring part of the world, where we can embrace the fact that our lives truly aren't like other people's.
For a taste of what a Life on the Swingset trip to Desire is all about, check out these podcast episodes:
The Swingset Takes Desire – Live With Tequila Body Shots – recorded on our first trip in November 2012
The Swingset Takes Desire Debrief – Sexy Times in Mexico – recorded after our first trip
Swinging In Paradise – Live from Desire Resort & Spa Cancun – recorded on our second trip in November 2013
Dylan Hosts a Roundtable Discussion in Paradise Part I and Part II – Dylan sits down with a number of our November 2013 guests (in a passion suite!)
You can also follow our Desire category on the website for articles, podcasts, and blogs all about trips to the most amazing place we've ever been to.
"The trip to Desire with the Swingset group was our 4th time visiting Desire.  Being avid listeners of the podcast we hoped the respect, curiosity, and diversity of topics discussed during the podcast would translate into a dynamic and varied group.  The trip did not disappoint.  Of all of our trips to Desire, this group had the most variety of experience levels and interests.  Many knew exactly what they were looking for and were comfortable speaking 'honestly and earnestly' about their desires.  We thoroughly enjoyed our time with the group.  The Swingset crew were amazing, welcoming, and inclusive hosts, and the variety and pacing of activities was just right.  It was a week in paradise with like-minded people where we developed deep connections that continue to evolve.  We are very much looking forward to doing it all over again this coming November."
– The Hedonistic Heroes.
BOOKING INFORMATION!
(prices are per couple – couples only, ask about triads)
Standard rooms will be $417.64 a night. $2,923.48 for the week. (they must be booked for 7 nights)
Deluxe Garden rooms are $523.64 a night. $3,665.48 for the week. (they must be booked for 7 nights)
Deluxe Ocean rooms are $583 a night. (These must be booked a minimum of 5 nights)
Jacuzzi suites (Garden view), Jacuzzi suites (Ocean view), Passion Suites are on request.

Contact Char Travel to find out more about room pricing and availability
http://chartravel.com/travel-specialists/life-swingset
Coming with? RSVP on Facebook or on Kasidie.com