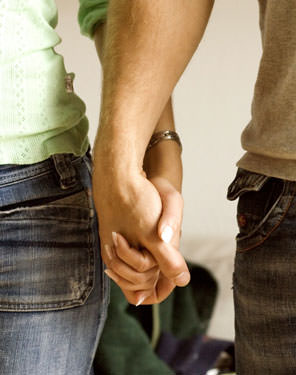 I tend to fall in love fast. Not necessarily hard, but definitely fast. I knew this about myself, but had honestly forgotten until Anne and I got into the lifestyle. After all, we had been happily dating/married for nine or so years before getting into the lifestyle, I was not actively seeking another life partner. I still wouldn't say I am. Anne initially said she was interested in exploring polyamory if she found someone she had feelings for. I have stated before that polyamory freaks me out and, honestly, it still does.
I over-analyse everything, especially things about myself. The other day I was talking to Anne about polyamory. The thing that got my thought train moving was this video. Thoughts started rolling around in my head. So, I asked Anne, "How are secondary poly partners different from couples we regularly have dates with?"
"Well I don't have romantic feelings for them." Anne replied.
"But what does that mean exactly?" I asked.
"If you don't know I can't really explain it."
Well, I suppose I do know. My lifestyle friends live in a different place in my heart than my vanilla friends. Sometimes I catch myself thinking that I would really like to snuggle with her or even after recent events, him. Do I love them all? I really don't know. I certainly care for them, but I don't know that I care for them more than my vanilla friends. However, I never catch myself wanting to snuggle with a vanilla friend.
Anne says she doesn't have thoughts of randomly wanted to snuggle with a play partner when they aren't around, but I am much more of a people person than she is. I suspect platonic love and romantic love are, like most things, not binary. They live on a scale. Anne is far at one end. My vanilla friends near the other end and my lifestyle friends floating about in the middle. Though I think for me the lifestyle friends float closer to romantic love than they do for Anne. Maybe it is just how we are wired, but I find it oddly ironic that I am the one freaked out by polyamory and also the one who seems to fall in love (is that what it is?) faster and more often.
I grapple with all kinds of questions in my mind now. What does it mean for someone to be a girlfriend or a boyfriend (fuck that sounds weird) when you have a wife? Early in my life a girlfriend was someone who was trying out to be my wife and partner forever. Is that still what it is? Do I need that? Do I want that? How are they really different from a good friend that you fuck? Probably romantic feelings. What does that even mean? I really have no idea. Ahhhh. God, I am just getting more lost in my own head.
So, that is where I am at. Wrestling with thoughts of people and trying to determine what they mean. I am in waters that I suspect few dread to enter. I know I am here and it freaks me out. But I am keeping my eyes and heart open to see what lays beyond. Is it certain disaster? Is it untold treasure? Am I brave enough to find out?