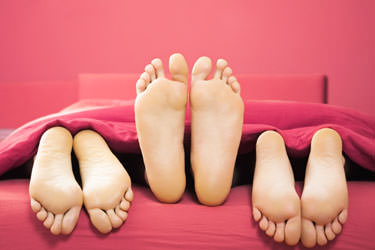 It was the first party we had attended of the summer. Anne was looking sexy in a cute little sundress. I was, in my opinion, rocking my new awesome straw fedora. Anne told me I looked like I was a tourist going to Jurassic Park, specifically to be eaten and not to save the day. I thought I looked awesome. As usual, we arrived at the party fashionably early (I hate being late), though, surprisingly, we were not the first people there. There was another couple and a unicorn already there.
All night long I couldn't seem to, for lack of a better phrase, pick a winner. The first woman I chatted with, the unicorn that arrived before us, left early. The next couple I started talking to, again lacking a good phrase, got weird, as if they were in an argument or just in general had some drama going on. So Anne and I steered clear of that.
As the night wore on, Anne, I, and two other couples were left chatting and drinking as others came and went to and from the play room. Eventually, a beautiful young unicorn came and sat down next to Anne. We had met her at a previous party and she clearly was very interested in Anne. After they kissed for a bit the three of us retreated to a secluded bedroom.
I was naked with Anne and the unicorn. Anne having been the center of attention for some time was glowing. And rightly so, it was her first time being with a woman, I made sure to keep her in the spotlight. At this point I was – as one might guess – very, very horny. We had never done full swap before, but had talked about it. So, I asked Anne if I could fuck the unicorn. She responded, "I don't care, but you should probably ask her."
This kind of made me feel like a douche, but I am sure Anne didn't mean it that way. However, asking the unicorn without being sure Anne was good with it would have been way more out of line in my mind. And the unicorn had dropped some hints earlier upon learning that we had never full swapped but were on the fence. They were very obvious hints. At one point during the earlier activities she hoped off the bed for lube and came back with lube and condoms. She knew Anne and I didn't need them with each other.
And that's how we, well I, full swapped. I fucked the unicorn and Anne kissed us both. It was super hot. I expected it to be strange for me. After all, our first venture outside of the marriage was extremely weird for me. That this was not came as a surprise to me. It was natural and totally fucking awesome.
Debriefing with Anne later, I asked her about, well, lots, but in regards to my sex with the unicorn she said it was pretty hot. That is a pretty big thing coming from Anne, who is not normally much of a voyeur. Between Anne and I, I am the one who is holding everything back on the full swap. She would run and dive into the deep end if she knew I would be right there, too. But she knows I have more hurdles to jump mentally.
This adventure has always been about us – Anne and I experiencing this together. In my perfect little world I imagined us full swapping together at the same time. I don't want one of us to leave the other behind. When I told Anne of these concerns she simply looked me straight in the eyes and replied, "If I had to engineer a situation that would have helped you overcome your issues I could not have come up with something better than how it happened." Which is probably true, and that's why I love her.