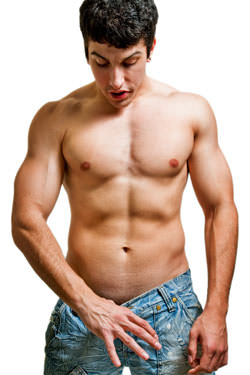 I am so glad I'm not the male part of the swinging relationship. So much worry about the plumbing – getting hard, staying hard, holding back, and then trying to finish when it's finally time. Viagra and Cialis and such little pills have done wonders but not conquered the problem entirely.
Twice so far since our conversion to full swap, I've found myself playing with a guy who, well, just can't get it up. The erect penis (or lack thereof) is a much bigger issue now that we have shifted to full swap activities. In soft swap, there's enough exchanging of positions and people that it's not quite as noticeable and not such an issue. I can suck a limp cock as much as a hard one. Fucking? Not so much.
The first time I faced the limp-biscuit situation, the guy just clearly was never going to get there. He was an older man and enjoying seeing his young girlfriend fucking her brains out with Mr. Doubleplay. I almost felt like I should have been given a warning on that one, because he honestly didn't seem surprised by his dilemma. That one left me feeling like I took one for the team a bit.
This most recent time, the poor guy was clearly embarrassed. And I must say he made up for his difficulties with me by going down on me so expertly that I squirted and had multiple orgasms. I was happy. But I could tell he was doing all he could to get himself hard.
Mr. Doubleplay, meanwhile, was having a crazy time on the sex swing with the lady half of the partner. It was hot to hear their moans, which joined in with my own moaning from the artful tongue of the struggling man. While Mr. D. was having a blast, he felt a bit guilty. Should he offer that he had some Viagra to share? Should I have offered? Should he ask the lady if they should continue or stop given the other guy's struggles? Would swapping back to original partners help? We just wanted to be helpful at that point and make sure the guy was having a fun time.
The erection thing also is causing us to rethink our same room boundaries. On another occasion on a very hot evening with two amazing couples, I was about to have sex with a burly, sexy Canadian. But he said he needed to go into the other room to get hard. There were too many people in there and it was distracting. We had a strict same room rule at that point so I was reluctant to do so. I am regretting that choice as in hindsight Mr. D and I realized it would have been a reasonable option given the adjoining doors. It may not be our preference to be in separate rooms but sometimes maybe that's what a guy needs?
I am wondering if there is an etiquette to this ongoing dilemma for the fellas out there. Any thoughts?