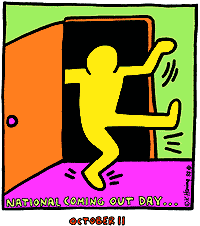 It seems as though there are so many things to "come out" about these days. Being gay. Being bi. Being an atheist. Being a Wiccan. Being non-monogamous. It's an unsurprising by-product of a progressing society. Rather than shamefully hiding your atypical lifestyle, you embrace it. You meet others who are like you and develop a circle of gay, atheist, non-monogamous friends. Unfortunately, your parents/family/coworkers/local grocer may not be as embracing of your "atypicality."
There's plenty of advice out there (both good and bad) for people considering "coming out" to friends or family. Or for parents looking for advice on what to do when little Susie brings home two husbands. It seems that numerous people are trying to figure out who they should tell, and how they should tell them.
Everyone has a different situation, making the "out" discussion even more complicated. If you're in a polyamorous relationship in which you live with multiple partners, and/or share children or households, your perspective on who to come out to is probably different than open couples who only have a sexual relationship with their "extra" partners. I'd venture that the vast majority of married-with-children swingers don't bring those other couples home to the parents on Christmas.
Personally, I am not out to most people. I don't feel the need to discuss my non-monogamy any more than which sexual positions I like, or how many shots of Jager I had at the bar last night (if I could even remember). Though I might like my other partners, we don't share more than a bed (or kitchen table or bathroom floor), and I don't feel the need to share further.
I have a group of friends who aren't in "the lifestyle" whom I have made aware of my situation. These are people in my life who I knew would be supportive of my decisions. Beyond that, I obviously talk about non-monogamy here and on my own blog, so anyone that reads my stuff is probably aware, even though I have never discussed it with them.
Who are you out to? Your parents? Your kids? Your spouse (har har)? What about co-wokers, friends, or extended family?