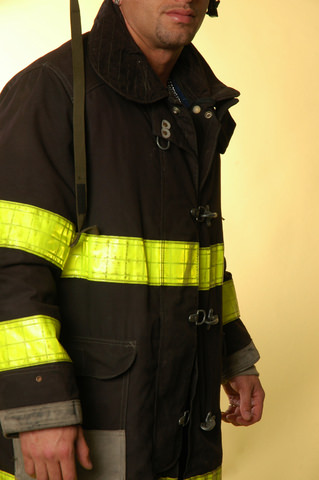 On the way home from soccer practice last evening – yes, I'm a fucking soccer mom – I stopped at the gas station to pump the over-priced, highly coveted fluid that allows us to do all the shit that we have to do. Since it took about 20 minutes to pump 14 gallons, due to the low pressure in the pump, I started casually walking around my car. A bunch of cops and a fire truck pulled up. There was no emergency but I suspect that they had just come back from a call since the firefighters still had those cumbersome (yet sexy) yellow pants and suspenders on.
There is something about a civil servant that can protect your life in one way or another. Cops and firefighters are sexy as hell. You don't even have to be all that attractive, you are sexy by proxy.
But, it just so happens, that these guys were all pretty smoking hot. Yummy! As my daughter and her friend were sitting in the car, I said hello to them as they walked by catching the eye of one of the cops and three of the firefighters. They came over to talk to me. My pussy got wet just watching them walk over. And my nipples got hard, so much so that they formed those little sexy "pointers" on the outside of my shirt – and of course, they noticed.
Being that I live in a relatively small town (a suburb of a very large city) that only has so many firefighters and cops, you run into the same people all the time – in the grocery store, the gym, at the gas station… I had seen the cop at the gym before so that provided the opening to our conversation. I had four sexy mother fuckers standing in front of me chatting me up. Fucking heaven!
We talked for a few more minutes about working out at our local gym and a couple of them said that they would like to join me for a workout some morning. Naturally, I would LOVE it!
As luck would have it, I went to the gym this morning and there was sexy firefighter walking in right behind me. He had just gotten off his shift and was working out before going home. Nice surprise. He asked if he could join me. I told him it was a cardio-only day and he convinced me to do a little lifting with him. Watching this gorgeous, sexy, shaved head civil servant lift weights made my body tingle and my thoughts drift down to his britches. As he helped me do bench press, his hands ran along my triceps toward my shoulders, providing support. I had to stop. I couldn't focus – his dick was right above my head. I just wanted to reach up, pull it out and stuff it down my throat. Ahem…anyway, we finished doing a little lifting and decided to wrap up our workout. And decided to walk out to the cars together.
As I approached my car, I dropped my keys. No, it wasn't intentional. And guess who bent over to get them at the same time that I did? Sexy firefighter. We almost bumped heads, but our eyes locked and I'm talking LOCKED tightly. He motioned to me to come around to the other side of my car, next to his truck. He pushed me up against his truck and kissed me really, really deeply. mmmmmmmmmmm…..I love that shit. We sat there making out for a minute or two before I realized we were in the middle of a giant parking lot full of people that we both run into every day.
But I got to feel his cock through his pants. I can't tell you exactly how big it is, but it felt so good to have a hard weiner near my pussy. We exchanged numbers and decided that after he gets a few hours of rest today, that we should get together for coffee….Yeah, right. Coffee. I suppose that I should take this slower than I am right now. Like my fellow blogger Sexie Sadie says, "you should check the guys out first."
I will and I will most certainly have coffee this morning – wait…I don't drink coffee.