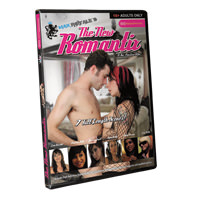 I have to say I was really impressed with what a romantic and super hot film The New Romantix was. It had plenty of sexy hot sex and all the actors in the film really seemed to be connected with one another. I got the feeling that they were truly into one another. It made the scenes all the more erotic knowing they were all trying to pleasure each other and having fun in the process.
The New Romantix, which we received courtesy Babeland.com, showcases 7 full length scenes with 6 gorgeous woman. Each women is interviewed prior to their scene to give you a bit of a background about them, what turns them on, and how they got started doing what they do. I found these interviews to be very unique and illuminating. I did enjoy hearing what each women had to say, but when I'm watching  a porn I don't really care about what they have to say. I want the sex and playing right now, and if I have to fast forward over stuff I will to get to what I want. I really think that the intros could be condensed and still have the same feel as the full length ones. I thought that Avy Lee Roths interview was extremely long and only a quarter of what she said really needed to be kept in. She repeated herself a couple times and at times felt like she was just talking to be talking. I felt that Lexi Bardols interview was a perfect length. Still got to hear a little bit about her and went right on to the fucking.
Now on to the good stuff. In the first scene we get to meet the sweet and sexy Ryan Heely. She gives us the pleasure to see her play with herself  which was a real treat. She was a fabulous squirter and was surprised to see her cum like that out of know where. She was totally enjoying herself and I know those groans were real, since I make the same ones when I squirt and gush as well.
Next we get to see playful Joanna Angel with her exceptionally plentiful pussy. She fantasizes about her man since he is away and decides to touch and play with herself. It's all good and sexy until she grabs her stuffed lion and starts playing with it, which we find out she is pretending is her man. I thought it to be a little strange but, when there is a real guy in the scene it gets to be a sensuous, hot, fucking time. Even had a great shot of her squirting everywhere, then got me to cum too.
This next scene we are taken inside a bouncy castle, one of those you see at carnivals and kids birthday parties, to find Lexi Belle being pleasured by a guy and a dark haired hottie. Things really start to get hot when the dark hair hottie gets Lexis' legs up over her shoulders, as Lexi is on her back, and goes to town on her sweet pussy. It was scorching hot. There were tons of playful and interesting positions that they all got tangled up in. The castle added extra bouncing to the thrusting during the fucking scenes and extra thrust to each deep insertion.
I noticed that the two girls seemed to play a bit rougher during their playtime. I remember seeing the dark hair hottie lightly choking Lexi while she is being fucked. I love seeing a bit more intensity and ruggedness, but this was very timid and enjoyable to watch.
The movements from one scene to the next was very quick and flawless. Never any legs or body parts in the cameras way. Had awesome shots of pussy and cock and not once out of focus. There were times were they were shooting through the castles netting which made some shots harder to see.
I was a little confused when this next scene came on, it just starts with Joanna Angel and Lexi Bardol(who we are introduced to later on in the film) sucking a guy in a bathroom. There was no introduction to who was in the scenes like the previous three scene started. Not that I didn't enjoy getting right down to business, I was just confused with who was doing what and what I was watching. Not until I went to the menu screen did I later find out who I was watching. It was a very dark scene anyway with dark red lightening. The lightening was good but had some dark spots and shadows that made it hard to figure out what I was looking at. Scene was very short and there was LOTS of cock sucking. It wasn't really a scene that turned me on. Seemed unneccessary.
Avy Lee Roth is exactly what I imagine a great porn actress to be. Has the super sexy hot body and knows how to dance and move her body. Her lap dance was fucking amazing and showed off her tight fiery ass. Yum! She's great at deep throating and tongue licking during her blow-job. The cameras were right in there and you can see her every movement of her lips and hands. The going down on him scene did seem to go a bit long and could have been a little shorter. The couple had a great connection and chemistry. They knew exacting how to pleasure one another and the camera showed that. We were really in there with them and could feel every sensation even as he goes down on Avy Lee and does this vibrating, sucking thing on her pussy. I loved the shaking! There were so many closes ups, especially of their faces and of her pussy and his cock. The best part for me was when he glides into Avy Lee. It was slow, tender and deep as he entered her doggie style. So perfect. And we get to see her hot ass again.
We are introduced to Lexi Barbol next and her intro wasn't as long and was an ideal length. We still got to hear a little about her and went right to the fun. This scene was entirely shot in infrafred, which was interesting but was a little distracting. I could see everything okay, but made it hard to distinguish what I was looking at and the lightening wasn't the best. His balls get in the way in a couple of scenes and we can't see what he's doing to Lexi. It ruined the rythm of the fucking. The fucking was steamy hot, which I came really hard just from watching them fuck, and done from lots of different positions and angles.  Had a great finish when both of them came at the same time. Excellent ending to the scene.
In the last scene we meet the young, innocent looking Riley Mason. The scene starts with her and her guy playing pool. It's very intimate and sweet, but moves at a slower pace than the rest of the previous scenes did. I was actually a little bored with the scene. It didn't have that hot intensity between the couple. Seemed like they were just going through the motions of fucking and switching positions. I think I could have skipped this scene and been totally satisfied with what I had seen in the other 6 scenes.
To wrap it up, I thought that The New Romantix was a sexy and fun film. I liked the combination of the back ground on the girl and their scenes to be a perfect fit. Even though I thought some introductions could have been a bit shorter. I enjoyed watching and feeling each sex scene these stunning women performed. The film is one I would watch again, minus the introductions and a couple scenes I mentioned above.
Full Disclosure: We did not purchase this product, it was sent to us specifically for review. Our policy is to, regardless of how we acquired a product, review it fairly and openly. No writer for Life On The Swingset will ever deliberately mislead our readers into believing that a product is good because of anything we received from the company. We are open and honest, and cannot be bought or bribed. If we love a product, we'll tell you, if we don't, BELIEVE us, we'll tell you that too. End disclaimer.