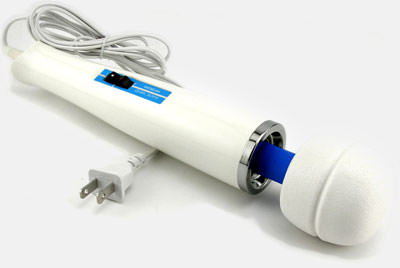 Since Anne and I have had a sexual awakening of sorts, we have learned many things. One of the most shocking things we learned was how unsafe some sex toys are for you. We promptly purged all of our toys that we deemed toxic. This obviously left us with a void in our arsenal (our awakening was mostly with swinging; we had some kink in us before that).
It is a good thing that 'tis the season because Santa, bringer of toys, really came through for us. Well, not really Santa, but we decided we needed to put the X back in Xmas. So, many people try to put the Christ back in Christmas, but really it hasn't been about Christ for a long long time. That, however, doesn't mean we should lose the X either. So, Anne and I decided to exchange nice sex toys (something we really never had). I hope this becomes a yearly tradition.
Now I am sure you are wondering what Santa brought us. So, lets get right down to the goods. I got Anne what I am sure many people consider the staple vibrator, the Hitachi Magic Wand. Anne got me a fun little prostate messager, the Aneros Helix. Besides the toys there was also an exchanging of books. We each got the other a book about something we would like them to learn about. Anne got me Showing You the Ropes by Two Knotty Boys. I am really looking forward to driving into the book. We have dabbled in rope bondage before, but my attempts at it have been, at best, passable for someone with rudimentary boy scout knowledge. The book I got for Anne was The Ultimate Guide to Anal Sex for Women by Tristan Taormino. Now Anne has at times expressed a passing interest in anal sex. I am much more interested in it than she is. We have tried it, but neither of us really knew what was going on and it didn't really end well. Hopefully the book will teach us some some things and expand our pleasure and fun together.
Merry Xmas! I hope yours is as fun as mine is shaping up to be!