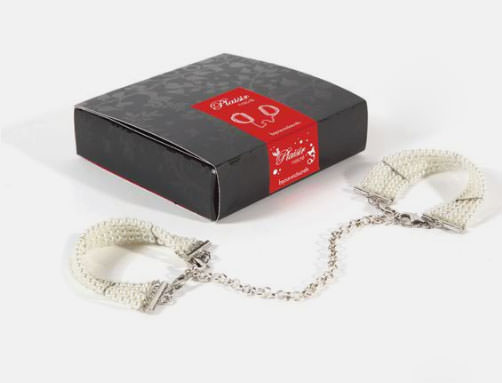 If you love to have that little extra something sexy to make you feel amazing Bijoux Indiscretes has what you looking for. They have body jewels, exquiste handcuffs, massage gels, massage kits, candles, masks, ticklers, bath sets, nipple decorations, and strip tease kits. All  high quality products that look like so much fun to try.
I fell in love with the Plaisir Nacre which is a set of pearl beaded handcuffs that have a chain connecting them in the middle. They looked super sexy around both my wrist. I enjoyed looking at myself in the mirror with them on. Very sophisicated and made me feel so seductive. I also liked the the chain in the middle, it was a perfect length to keep my wrists together but still be able to have my hands free to give a blowjob with them. The cuffs are durable, strong and never caught on anything. I move all over the place when I'm bound together and never once did they twist, knot up or break. These are the best and I will be using them as much as possible.
I also was crazy about the Coffret Bliss Bliss that is a sensual massage kit they sell. It includes a silicone massage gel, satin mask, and feather case all in a little black tin. What surprised me the most about the massage gel was that it was silicone. It was the softest, silkiest  massage product that I have ever used. As I applied it to my hands and rubbed it in it felt like it was melting into my skin. My hands were like satin and once I started rubbing my hands into Cooper's back it felt like heaven. It was so smooth and ease to rub in, never once did it feel like I had product on my hand. The gel was the lightest feeling product I have ever used to massage someone with. I had to reapply a couple times, but it didn't build up on my hands or get greasy or oily. Even better, Cooper's back wasn't left with any oily film when I was done. His skin was soft and plush.
The mask and the feather along with the kit are great for teasing your partner. The satin black mask over tied over their eyes as you gently run the small black feather over their skin after a tender, pleasing massage will drive their senses crazy! All the textures over their body will drive them insane with lust. This is a great idea to get an evening started.
Bijoux also has a line of body adornments that are provocative and add sparkle to your body. They have two types of decorations, one is their  Flamboyant line with colored  jewels that dress up your nipples. They come in three different colors: blue/teal, black, and purple/pink. The second is their Mimi line which are rhinestone nipple covers and come in black stones or diamonds.
They are very easy to apply and stay on for hours. I had mine on for about 7 hours and never once did it move, come loose, snag, or any jewels fall off. They felt very comfortable on, almost like I didn't have them on at all. They did look really sexy on me, and looks perfect with a sheer top or all by themselves. They aren't something I would buy for myself but are great when you want to add a little glitz and glamor to your body. The adornments are only a one time use and are to last between 6 to 8 hours. Anyone with sensitive skin or skin problems should not use. Definitely should test it out prior to use to make sure you don't have any allergic reactions to them.
I had a throughly amazing time playing and dressing up with all of Bijoux Indiscretes product line. All very sexy, sensual high quality products. Can't wait to try out more of their product line and see what else can get me all excited and feeling seductive.
Full Disclosure: We did not purchase this product, it was sent to us specifically for review. Our policy is to, regardless of how we acquired a product, review it fairly and openly. No writer for Life On The Swingset will ever deliberately mislead our readers into believing that a product is good because of anything we received from the company. We are open and honest, and cannot be bought or bribed. If we love a product, we'll tell you, if we don't, BELIEVE us, we'll tell you that too. End disclaimer.