Episode the seventy-third; wherein the Pageist talks sex toys–making them and the pros and cons of wood ones–with Richard Carver of Lumberjill.
.45 Intro and Announcements:
At the start of the third year of the show, a sincere thank you to my patrons and all of the show's listeners.
Thank you to Joanna for the generous PayPal donation last month–it was enormously helpful.
If you use the code 'pageist' (without quotes) on Circlet.com you can get 25% off (offer good through the end of March 2018.
3.13 Interview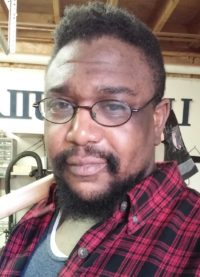 This episode's interview is the first in a series with sex toy aficionados.
Richard Carver makes high quality sex toys, art pieces and 3D models by hand out of wood. Wood is light-weight, warms to body temperature quickly and can be used with condoms. It's not easily sterilisable, however, so once you use it, it's yours.
His work is available at SheVibe under the Lumberjill tag.
You can purchase directly from him, as well as make custom requests from his Etsy shop, Lumberjill.
There's much more to see, as well as videos of his work on Instagram, where his handle is @lumberjill_leisurecrafts.
You can also follow him on Twitter: @ShouldaWooda
And support his work on Patreon: patreon.com/lumberjill
Richard also joined me for a few bonus questions, which will be part of the Mix Tape next month.
58.38 Closing Remarks:
Thank you for tuning in!
In the next episode I'll be reviewing (really) Ask: Building Consent Culture edited by Kitty Stryker.
Support the show through PayPal!
Support the show and site on Patreon and get bonus content each month!
Like The Pageist on Facebook, follow on Twitter, Tumblr, Goodreads, Quora, Medium, and Instagram and join the Fetlife group.
You can also subscribe to the website through the email form in the sidebar.
Subscribe to the iTunes feed here. You can also rate the show in iTunes, which would be much appreciated!
The libsyn feed is here and can be used in your favourite podcast feed reader.
All episodes can be streamed or downloaded from an embedded player on this page.