Episode the sixty-fourth; wherein the Pageist learns a whole bunch about chastity from show favourite AliceinBondageLand.
.45 Intro and Announcements:
This episode was scheduled several days ahead in preparation for Walter's biopsy, so no announcements. I'll catch up on those in a few weeks.
3.29 Interview: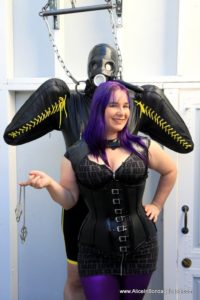 AliceinBondageLand joins the show for the third time! YAY! This time we're discussing chastity, which is the eroticization of not being allowed to touch your naughty bits.
This was a first in that she asked people for questions on other platforms (Reddit and Twitter) and so answered not only my questions, but also questions from people who practise chastity or are curious about trying it. We got into health and hygiene as well as safety and the motivation behind chastity play. Also, how to do it as a single person vs in a couple.
Shops Alice recommends for luxury chastity devices:
Steelwerks
Latowski
MatureMetal
For cock pumps, Alice recommends going over to MedicalToys.com.
A popular device is the CB6000, though it wasn't recommended from any particular shop.
Alice has previously been on the show to talk about FemDom and what she loves about what she does and Female Led Relationships. She'll be back to talk about all sorts of other goodness in the future.
You can find Alice on Twitter @BondageLand
Her website is AliceinBondageLand.com
On Fetlife she's GoAskAlice
On instagram just look for @aliceinbondageland
Alice's flowchart for choosing a Chastity Device:
1.37.56 Closing Remarks:
Thank you for tuning in!
In the next episode I'll be interviewing Kitty Chambliss, relationship coach and author, about dealing with jealousy in ethically non-monogamous relationships.
Support the show through PayPal!
Support the show and site on Patreon and get bonus content each month!
Like The Pageist on Facebook, follow on Twitter, Tumblr, Goodreads, Quora, Medium, and Instagram and join the Fetlife group.
You can also subscribe to the website through the email form in the sidebar.
Subscribe to the iTunes feed here. You can also rate the show in iTunes, which would be much appreciated!
The libsyn feed is here and can be used in your favourite podcast feed reader.
All episodes can be heard in an embedded player on this page.
The post Episode 064: AliceinBondageLand on Chastity appeared first on The Pageist.