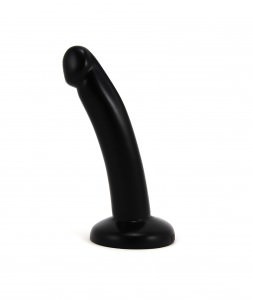 I love just about everything that is purple. Now that list includes Vixen Creations' Mistress in Purple Shimmer. I do love it for more than just being purple though. Vixen's simple all-purpose dildo is perfect for individual or strap-on play. The basic slim design is composed of a 6″ slightly curved shaft with head.  Also has a large base for you to grasp on to for inserting into yourself, others to insert into you, or for placing in a strap-on. While looking very average, the shiny shimmery dildo has a sexy alluring quality, that begs for you to use it. I couldn't wait to strap it on and get it in me for some wet and wild adventures.
Since the moment I removed the dildo from the Vixen Creations plastic tube I knew I needed to strap the seductive Mistress on me. So I put the dong in my leather harness and was ready to pleasure my hubby. After several moments of soft, yet powerful thrusts I was getting a good feel for the Mistress. It was easy it insert, glided right in and seemed to be working well for Cooper. There was something missing though. Cooper and I weren't getting that amazing orgasmic feeling. For me, it wasn't providing me with any clit play. The dildo just sat on top of the harness and that was pretty much it. I love having that "I have a cock feeling" and I just wasn't getting that. It felt good for both of us, but we thought as a strap-on dildo, and one for pegging, the Mistress was better suited for beginners. We needed something that pushed more of our buttons. It just wasn't reaching the places we would have liked it to.
At this point my hopes weren't very high for how the Mistress was going perform for me individually. Anyway, I was ready to give her a try. My first time with her alone was with Cooper.  I was enjoying some "me" time and was really getting hot and pleasured when Cooper decided to insert the Mistress in me anally as he was in me vaginally. It was a very pleasant surprise. I've been really wanting to do more DP and this was wonderful. I did have a hard time keeping the dildo in me anally though. Not sure if it was too much lube or the dildo, but I couldn't keep the Mistress in. Kept popping out of me. It would slide back in smoothly, and the Mistress felt amazing as it was inside of me, but didn't really do much for me.
When Cooper had finished, he continued to move the Mistress in my ass. Slow and steady at first and I was really enjoying the silky touch inside me. Mistress was really pushing all the right buttons. At that point Cooper went faster, and harder, and thrusted her up my ass like I've never felt a dildo. Her head was pin pointing every sexy spot in me. After a few heavy blows I was cuming  all over the place. Gushing and squirting my juices. It was spectaucular. I never believed I could come from anal play. So hot and sexy. The head pushed all the right places and made me cum like a fire hydrant. I wanted more! I was actually begging for more of her magnificant erotic pleasure. Vixen's Mistress was getting a standing ovation. Encore!
I felt this would be the perfect time to try the Mistress on my own and see how well her and I get along without Cooper's assistance. Since I was still all wet from a few moments earlier I didn't need to apply anything to get me started. (After washing her thoroughly) I glided the dildo tenderly over my clit and lips. I noticed every move she made. Each soft caress was like velvet kissing my body, warm and kind with every touch. I casually slid the dildo inside me, vaginally, and pressed her hard and fast against my G-spot. With very little effort her smooth, hard head was hitting me and was making me purr like a kitten. I had her hit me a few more times and I released the dildo out of me and I exploded with cum. What an awesome release. Connecting with a dildo like that was so exhilarating I needed it again! So after a couple more intoxicating explosions I was covered in wet, sticky goodness. I loved what the Mistress could do. She totally and completely satisfied my needs. I was in heaven.
I had the best time with Vixen Creations' Mistress. It was a wild, thrilling, and VERY wet ride. It was leaving me begging for more. The average, slim size was perfect and could please me wonderfully. The only unfortunate side to the Mistress was  that I didn't find it as pleasuring when used as a strap-on dildo. It didn't had the right length and stability I was looking for. Otherwise the Mistress is a excellent dildo and can really get my juices flowing. Definitely need to give Vixen Creations'  Mistress a try. I would suggest you get purple, but there are variety of colors to choice from. Have fun!
Full Disclosure: We did not purchase this product, it was sent to us specifically for review. Our policy is to, regardless of how we acquired a product, review it fairly and openly. No writer for Life On The Swingset will ever deliberately mislead our readers into believing that a product is good because of anything we received from the company. We are open and honest, and cannot be bought or bribed. If we love a product, we'll tell you, if we don't, BELIEVE us, we'll tell you that too. End disclaimer.