Hi all, Dylan here, It's been a while since I convened the club, and on the eve of my trip to Mexico after a long… long time without a break, I decided to put out a half-length show to whet your whistle and get you ready for the -seriously- biting episode we have in the pressure cooker. For now, enjoy some music, enjoy a story, and enjoy my wife and I having a bit of a chat.
Podcast: Download (23.6MB)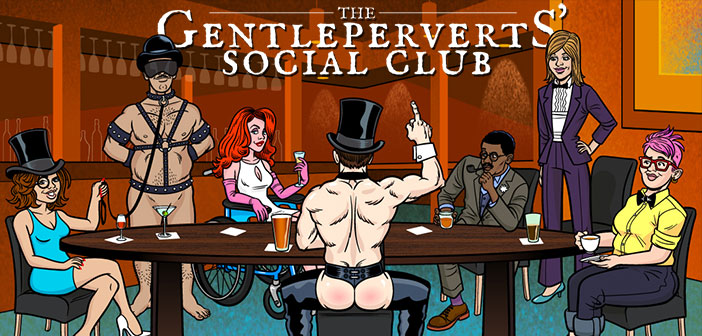 Segment 1, Dylan's Feels

I've had an exceptionally rough year and I'm getting past it but for some reason a particular song made me sit and feel everything all at once because, disregarding lyrics (words? who listens to music for words?!), this song felt like my life. Enjoy Varien – Valkyrie III: Atonement (feat. Laura Brehm) and thanks for sticking with me during the rough times.
Segment 2, Storytime With Kat

Wetcoast Kat is back with a story of a date and a little… under the table action. You can find her on twitter and on her own blog at lifeontheswingset.com/author/kat!
Segment 3, Dylan's Feels ….. again?

A chance encounter at the store on the way to a party sparks a conversation between Dylan and Tonia. It touches on a little paternalism, a little ownership, a little creepy dude … and maybe a little oversensitive Dylan.
You can find more Gentleperverts podcasts every few weeks on Friday at www.gentleperverts.com and discuss our latest episodes and topics on the site or by pinging us on twitter at #GPSC or @GentlePerverts. You can find me, Dylan Thomas, on twitter, Facebook, Spotify and Fetlife as DylanTheThomas and you can support me and the club at tip.gentleperverts.com. If you have a submission, a story, a signal boost request, or an idea for a topic send that to dylan@lifeontheswingset.com.
Thanks, and I'll pour an alcoholic smoothie down my wife's throat in all your honors.
This episode featured music from:
Varien – Valkyrie III: Atonement (feat. Laura Brehm)
Video Link: https://www.youtube.com/watch?v=3g34ZSm8PqI
iTunes Download Link: https://itunes.apple.com/us/album/valkyrie-iii-atonement-feat./id1048219775
Deon Custom – Aloha
Video Link: https://www.youtube.com/watch?v=tTAf5h_t3KY
iTunes Download Link: https://itunes.apple.com/us/album/aloha-single/id1049816302
Televisor – Break Loose (feat. Splitbreed) (Volant Remix)
Video Link: https://www.youtube.com/watch?v=PgZPwsNHRIk
iTunes Download Link: https://itunes.apple.com/us/album/monstercat-024-vanguard/id1052327587
Pegboard Nerds – Emoji
Video Link: https://www.youtube.com/watch?v=PgZPwsNHRIk
iTunes Download Link: https://itunes.apple.com/us/album/monstercat-024-vanguard/id1052327587