Ahhhh… it's good to see my people again. Welcome back perverts. Many of you travel and have taken the time record a little bit of yourselves. Today I reward your efforts! This is truly a milestone, truly a day worthy of song and drink. It is the day I release a Gentleperverts Social Club where I don't say a damn thing.
Except for right now where I ask you to consider helping support the Social Club on a per episode or per monthly basis. It takes a lot of work to keep this going and with your help I can do that…maybe with a little more help I can do a little more. Visit tip.gentleperverts.com and subscribe for as little as a dollar per episode or even a dollar per month. Every little bit will help me contribute just a little bit more to the club, and to the rest of my travel, my speaking, my production elsewhere… really just everything.
Anyway, today we're featuring Sex Geeks and at least in my world, any mention of sex geeks brings to my mind a man I consider to be my personal patient zero, Reid Mihalko and as such, we interviewed him twice, once for his origin story and once for his thoughts on handling imbalances in developing relationships
We also have a new and …hopefully recurring segment we'll call Storytime with Kat and in this particular story telling session Kat …you know I'm not going to ruin it. It's sexy. Trust me.
We'll close down the club with version two of the "Is there a Secret Handshake? – Navigating Alternative Lifestyles" panel broadcast live at CatalystCon West 2015!
Podcast: Download (54.9MB)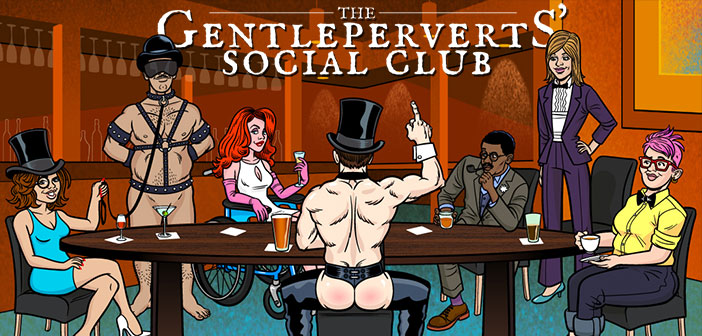 Segment 1
Reid Mihalko is quite literally a man of action. Luckily Mr. Pent was a man with a plan and while attending CatalystCon West 2015 he initiated a catch and release program so Reid would tell us about the origins of him as America's Favorite Sex Geek.
Segment 2
Reid runs a Sex Geek summer camp called… Sex Geek Summer Camp and Michelle Renee pitched her personal tent long enough to invite Reid in to tell us how he'd handle imbalances in relating to new partners.
Reid Mihalko, America's Favorite Sex Geek wants you to be the change you want to see in the bedroom. You can find him on twitter and facebook and on the web at reidaboutsex.com. If you're a sex educator or sex positive professional and interested in building your business go to sexgeeksummercamp.com and consider signing up! Reid also wants to help you transform your relationships, you can find his video training series at relationship10x.com.
My good friend Mr. Pent is kinky and "hella" non-monogamous and you can find him on twitter at @mr_pent and find his blog at www.mrpent.com and listen to him speak at CatalystCon a little later today.
You can find Michelle Renee's writing at SexAfterMarriage.org and on twitter @TheTrojanKitten
Segment 3
Today, I become a fan of a new storytelling segment, "Storytime with Kat" and… I'm going to let her tell you what it's all about. It's … hot.
Segment 4
Many people are drawn to alternative lifestyles such as BDSM, polyamory, and swinging, because they are seeking to explore a different side of themselves. As part of the learning process, people often feel that it is important to find a community to help educate them on their new lifestyle journey. For some, seeking out a community for education and camaraderie can be the most difficult part of the journey. At times, it may feel as though you have joined a club, but never learned the secret handshake.
Dirty Lola, Andrea Renae, Rebecca Hiles and Mr. Pent share ways to find your place within the alternative community that meshes with your needs and desire and they'll do so by covering topics ranging from appropriate lifestyle etiquette and finding a community, to negotiation and safety.
Rebecca Hiles aka The Frisky Fairy is a sex educator and dating coach out of the DC Region and you can find her everywhere, twitter, tumblr, etc… @TheFriskyFairy.
Andrea Renae is a sexuality educator and coach working in the kink and polyamory communities. You can find her at www.andrearenae.net and at sexedventures.com on twitter at @theandrearenae. She also works with the Sexuality in Communities Oral History Project based out of Philadelphia which you can find at www.scohp.org.
Dirty Lola is SELECTIVELY down to fuck, you can find her at dirtylola69.tumblr.com, on twitter as @DirtyLola, and find her podcast, Sex Ed A-Go-Go here on the Swingset network at swingset.fm/sexedagogo
So… no excuses. I do what I can because I must, but I stress the "do what I can part". No more broken commitments, no more aspirational goals to put out a certain amount of episodes in a well defined amount of time! I would love to do this more but for now, I'll do it as much as I can. Until we put out a daily podcast you can find more Gentleperverts podcasts every few weeks on Friday at www.gentleperverts.com and discuss our latest episodes and topics on the site or by pinging us on twitter at #GPSC or @GentlePerverts. You can find me, Dylan Thomas, on twitter, Facebook, Spotify and Fetlife as DylanTheThomas and you can support me and the club at patreon.com/dylanthethomas. If you have a submission, a story, a signal boost request, or an idea for a topic send that to dylan@lifeontheswingset.com.
Stay curious, you'll never get shade from us. Come back soon.
Title: Draper – On You (feat. Alby Hobbs)
Video Link: https://www.youtube.com/watch?v=4aQfdExvHpc
iTunes Download Link: https://itunes.apple.com/us/album/on-you-feat.-alby-hobbs-single/id1021355800
Title: Pegboard Nerds – Swamp Thing
Video Link: https://www.youtube.com/watch?v=SDiJiGuUeBo
iTunes Download Link: https://itunes.apple.com/us/album/swamp-thing-single/id1005092248
Title: Televisor – Deluxe (Duskus Remix)
Video Link: https://www.youtube.com/watch?v=8AOC-plc34M
iTunes Download Link: https://itunes.apple.com/us/album/venture-the-remixes-ep/id1033246945
Title: Varien – Supercell (feat. Veela)
Video Link: https://www.youtube.com/watch?v=-x9LYic45Jw
iTunes Download Link: https://itunes.apple.com/us/album/the-ancient-arcane/id1020790718