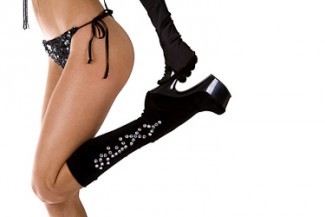 Flick and I decided that we needed to go check out more of the local swinger club events and we were very pleasantly surprised to find one happening downtown in one of the full-time sex clubs. I'd been wanting to check out that space for a long time, and although it wasn't one of their regular nights, I was happy to at least learn where it is was located. The club is in a former bath house and many of the events hosted are men-only, so the swinger event was a great chance to see the place.
The party we were attending was run by a local swinger BDSM group. They're explicitly pansexual, which I really appreciate since I know a lot of swinger groups/venues seem to think only women should have varying gender appetites. It's a pleasant surprise when groups let go of those ridiculous boundaries.
I finally got to wear my rubber buckle dress and felt scorchingly sexy. I'm not able to wear panties under the dress, so there's an added naughtiness for a formerly shy-girl to go out in a micro-short skirt, knowing I'm barely covered. My sweetie looked amazing in some shiny vinyl pants and a sleeveless hoodie, and with the addition of some guyliner, he had such a sexy, punky, rent boy vibe, I could barely keep my hands off him all night.
We met up with another couple we've played with before, who've transitioned into great friends. We had a few drinks and chatted with a few of the other attendees, but we didn't find any connections with a strong click, so we four stuck together and danced for a few hours to really fun 80's music. I'm so happy to dance all night, but through the course of one dramatic song, I managed to not only drop my own drink cup but knock TWO other cups out of people's hands onto the dance floor! There's a reason some friends won't wear their nice clothes around me. Sigh. I also learned how thoroughly rubber doesn't breathe when I felt the sweat pouring down the backs of my legs, though fishnets are thankfully fairly absorbent.
The party began to transition to more play-focused and people were welcomed to the dungeon area to observe a scene, so Flick and I grabbed a bench with a great view of the action. A lovely, submissive woman knelt over a spanking bench while her Dom worked her over. The Dom was a bit of a mystery to me. I'm all for people wearing what makes them feel good, and I know there can be far too much focus on having the right look for a BDSM event, but his Hawaiian shirt and gym shorts, were incongruous with his air of power and domination. Regardless, they were beautiful to watch. Their intense connection was palpable, and while the Dom was giving her the pain she needed, there was an underlying tenderness that was lovely to witness.
The scene was getting me hot and squirmy, and we looked around to see many couples exploring each other as the excitement mounted. It took nothing to spread my legs so my sweetie could simply slip his fingers into me. Perfection! The sub was watching this happen in front of her and smiled up at us. Our friends were still dancing and would peek through the curtain at us every now and then, which just made it hotter, made me spread wider. The scene and our exploration progressed: my hand in his pants, him laying me back to get his mouth on me, me sucking him off until I couldn't wait anymore and climbed aboard to ride him there and then.
I was clearly lost to my own world by that point because it wasn't until we finished that I realized the scene had ended and people had moved on to other parts of the club – though we definitely had a few remaining watchers. We cleaned up, got some water, and perved on what was happening in a few other areas of the club. Our friends had decided to go back to their place to continue the party on their own, so we enjoyed the atmosphere for a while then danced like cheeseballs to 'Pour Some Sugar on Me' to close out the night (we were the only ones on the dance floor by this point).
We were in the change room getting our gear together when an attractive man approached us and started chatting, having been watching us dance. He said we seemed like an interesting couple with a great chemistry and wanted to get to know us better. We weren't up for sticking around, but gave him our card and set up a drinks date.  That particular connection didn't ultimately pan out, but we'd had a great time exploring at a new event and strengthened our own connection, which is a big part of why we're on this wonderful adventure.