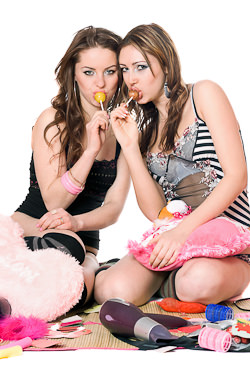 Girls' Nights Out are a relaxed, low-key way for women in the swing lifestyle to get to know each other and have fun. I've been organizing girls' nights for my meet and greet group for nearly 2 years. My group currently meets once a month for a Meet and Greet at a vanilla club. The group is comprised of couples and singles over age 30. If you are interested in learning more about how I organize the meet and greets you can read this article, How to Run a Fantastic Swinger Meet and Greet. You can read about our first girls' nights, Building Community through Girls' Nights Out.
My goal in creating girls' nights is for everyone to have fun and to build community within my group. I have been hosting them monthly. The events are open to anyone in the group who identifies as female. I encourage single and married women, bi and straight, new and experienced to join. The nights are not designed as play parties so it is a low-pressure setting for everyone. We've been alternating special nights with simple gatherings.
Simple Gatherings:
Our simple gatherings are at a wine bar. I make a reservation for our group and we sit in a secluded area. We meet on a Thursday evening and spend a couple hours chatting and sharing. This has been a relaxed way for women in the lifestyle to meet and get to know each other. We typically have 12 – 20 girls attend.
I meet everyone as they arrive and then after about 30 minutes I call everyone's attention and we do introductions.We make a circle and I ask each person to give their first name, their screen name, their significant other's name (if they have one) and a question related to the season. Questions I've used are: Name one thing you are thankful for, Did you make a resolution, what was it? Tell us one thing you love about Spring. Doing an introduction circle is important so everyone feels valued and comfortable talking in the group. It's also important because many people are looking to meet someone they know from online. Since everyone gives their name and screen name they know who is there.
After the introduction circle people continue chatting in small or large groups. I sit in different groups throughout the evening. (When someone gets up to go to the restroom I take her spot). That encourages the other girls to circulate and talk to each other. Typically at some point later in the evening one of our regular attendees (or rarely, someone new) will bring up a question or concern related to swinging from their own life. This always generates a lot of excellent discussion, empathy and advice.
We usually meet for about two to three hours. Many of the husbands and boyfriends drive us and get together at a bar nearby. They also have good conversations and sometimes end up talking about the same things the girls are concerned about!
Come Dancing! Pole Dance Class:
In our area we have two businesses that offer pole dance exercise classes. They offer private parties where they teach basic moves and a short routine.With the exception of having to pay a $100 deposit, and committing to at least 10 attendees, this was a very easy event to coordinate.
The studio had space for 18 participants (2 girls per pole) and required that I pay for a minimum of 10 spots ($200). In order to attend everyone had to rsvp and pay me ahead of time. I used Paypal and asked that they transfer money or mark it as a gift so I was not charged a fee. I also specified that unless the class was canceled no refunds would be given. If someone was not able to attend, they could find someone else in the group to take their spot. Three people did drop out, but there was a waiting list of girls to take their spots.
I started the evening with our introduction circle and the question of the night was whether you had ever taken a pole class and how it was. I told a funny story about myself and that got everyone relaxed. It also helped the teacher to know everyone's experience up front. Everyone chose a pole partner to start the class. The class was excellent and we all had a great time. Halfway through we took a break for snacks and wine and then resumed with different partners. Since it was a private class there was a lot of joking around, which the teacher seemed to enjoy also. Our group included a wide variety of ages and body types. It was nice to see everyone having fun and learning some sexy moves.
After the class many of the girls met up with their husbands or boyfriends and went on to our local swing club to show off their new talents. This was a very popular event. The studio also offers other classes so our group plans to do a burlesque dance class in a few months.
Over the past two years organizing events, I have found swingers in general tend to frequently cancel and change their minds about attending events. If you are hosting a paid event, where you have to commit a large amount of money, I would advise a strict cancellation policy. I would also recommend, hosting several free events before planning a paid one, so people get to know you and are enthusiastic about attending your events.
Lingerie Exchange:
This is a really fun, very easy party to host and organize. Most of us have tons of lingerie, costumes and clubwear. I personally have many items that don't fit right, never fit, no longer fit, or I've worn and loved, but am tired of wearing. The idea of this party is to bring items you no longer want and trade them in for something different.
We organized this party as a casual exchange. There was no money involved and no valuation. All women were welcome to attend whether or not they had lingerie to exchange. You were not required to trade one for one. Basically, everyone wanted to give away their items. Most people brought at least 3 or four items. Some of the girls were newer or not really into lingerie/costumes so they did not bring anything. Three or four of us brought dozens of dresses, lingerie, and costumes. We had about a 12 girls attend.
My friend co-hosted this event with me at her home. We sent all the husbands and boyfriends to a nearby bar. Everyone brought a bottle of wine or a dessert or appetizer to share and their own wine glass. We started the evening with drinks and snacks and then had our introduction circle. The question of the night was, What is your favorite type of lingerie and why? I encouraged everyone to try on and take whatever they liked even if they did not have anything to exchange. Our goal was for everyone to go home with something different, and not to take home anything we brought.
This was not a play party, but it would definitely be an awesome way to start an all-girl play night. Our girls' nights are advertised as social gatherings. As hosts we were careful to set a tone of friendly flirting, but not go beyond that. If you are interested in hosting girls' play parties, I think starting with a lingerie exchange would be ideal.
Everyone laid out their dresses and lingerie wherever we could find a space: on the backs of couches, tables and chairs. We closed all the curtains. The girls were welcome to change in private in the bedrooms or bathrooms or just "take it off" in the kitchen and living room. Many of us found lingerie we liked and wore that the majority of the night. It was the kind of evening guys imagine happening at sleep-over parties!
One thing I would do differently is to have full length mirrors. My friend did not have any in her home. The inexpensive hang-on-the-door ones would work perfect. Next time I will bring two or three.
It was really fun for us all to help each other find the perfect outfit. We had girls who were very petite and girls who were plus size. Everyone went home with something new and flattering. I think we all lifted each other up and made each other feel cute and sexy. The new girls had a great time socializing and are now ready to dress up for the swing club. My closet has a little more space, and I got Super Girl underwear with a little cape attached!
Our group loves girls' nights out! Some of our ideas for the future include attending a wine and paint class, a burlesque dance class or dinner and shopping at an adult store. I've gotten positive feedback from new and experienced swingers. They tell me they've made new friends and become closer with women they already knew. We all enjoyed the events I shared above and plan to repeat them in the next few months.
I hope these ideas are helpful to you in planning your own Girls' Night Out. I'd love to hear your impressions and experiences with girls' nights in the comment section below. You can also check out Kasidie.com to learn about their Girls Uncorked parties.