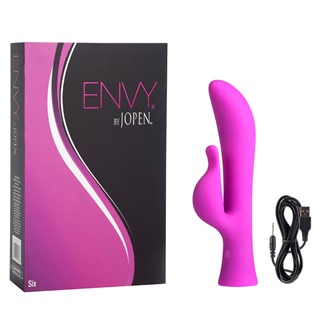 A Jopen representative sent me the Envy Six because I was interested in a dual stimulation rechargeable vibe. My first impression was that it was a very smooth silicone coated toy while still being very firm. The packaging is kind of fancy, the box flipped open like a big book and cut out of foam was a section for the toy, nestled in like a secret flask hiding place carved into an old bible.
I was intrigued by the unique shape of the toy. The Envy Six has a bulbous head and a duckbill-looking clit stimulator. It is, of course, pink, in fact all of the toys in the Envy line come in the same shade of fuchsia. I'm not offended by pink, though it is a little sad that it's the one and only option available.
I used Jopen's "Essence Satin"  water-based lubricant with this toy (they threw a bottle of this into my sexy care package). I really loved the lube. It's a thicker gel, like one of my favorites: Sliquid Sassy, and it's really long lasting. It didn't gunk up and become sticky or tacky, and I actually don't have to reapply almost at all because it seems to reactivate with my own natural moisture. It's a hefty glass bottle and has a nice pump button on the top for easy application. I'm a stickler for things I'm willing to put in my body and that doesn't just mean a toy snob, but I'm an absolute lube-snob too. I was impressed by the small ingredients list on this, the lack of parabens and Phthalates, and how that didn't compromise the slippery factor. It's my go-to lube now and I try to keep it within arm's reach of the bed at all times.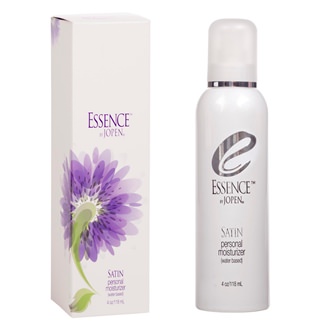 The Envy Six itself is an interesting toy. It's definitely intense, and has a high buzz-factor (I liked to call it my "bumble-fucker" because it was like a bumble bee), which is good in and of itself, but the button system did frustrate me a bit. There are two buttons on the bottom of the toy, one with an "F" for function and one with an "I" for intensity. I wasn't thinking about this the first few times I played with it, otherwise it probably would have made more sense. My first attempts were a failure. I ended up watching the video on my phone while in bed to figure it out, I think I have it down now. So pressing the "I" button turns it on (the buttons light up to let you know) and it starts on it's lowest vibration setting. Pressing the "F" button changes to different modes, of which there are seven. At this point, all of the modes I went through were on the lowest setting, and the different pulsating modes just tease me and don't do much for me. I pressed the "I," thinking that would pump up the volume, but instead it turned it off. There is one more mystery button on the handle of the toy that I figured must change the intensity, so I tried again. The mystery button actually changed which part of the toy vibrates, so you can turn the internal part off and just have the duckbill vibrating, or you can turn the duckbill off and just have internal vibration, or have them both going, and can even have them switching back and forth in a completely frustrating way (if you're into sadomasochism that function would be perfect!). Either way I was not getting off. I set it aside for the night and used my Hitachi.
My problem, which isn't necessarily a problem with the toy in any way, is that the "I" intensity button needs to be held down to increase the intensity. It all seems so simple now that I know, but damn is it aggravating to try and figure out when you're trying to get off. Such is the life of a sex toy reviewer.
Button issues aside, once I figured it all out I would still say this toy's shape wasn't the best for my body. All women vary (my personal work motto as a sexual educator), so the exact curve and depth that my body is going to need may not be like any other female's out there. This is the most common problem with dual stimulation toys. If the clit vibe portion is super low, you have to insert the whole toy so that the vibe actually reaches your clit (which is sometime too much), and if it's too high up then you might not be getting the kind of penetration you want. And again, I cannot stress this enough: all women vary. So having the clit stimulator in a fixed position on any toy is only going to be the perfect place for a certain number of women. It's only a matter of time before some toy manufacturer invents a dual-stim toy where the clit vibe can be moved up and down the shaft so that it can work with any body, but as far as I know it has yet to be invented (and I've looked!). So, for my body, it was awkward. I liked to use just the shaft part of the Envy Six as an external clit vibe, because it was very powerful, smooth, and a good shape for that.
Some interesting aspects of the Envy Six that I should note are that it is USB rechargeable, which is super nice and easy (as long as you don't live with your parents or kids of a certain age I suppose), and there is a memory chip in it that remembers the last setting you were using and goes straight there the next time you use it (which is pretty cool).
It is currently sold at SheVibe for a little over a hundred dollars. This is pretty average for a rechargeable toy, and if it works for you, it's worth it. Due to the fact that my body wasn't right for this toy, I would have been very sad to have paid that much for a dual-stim toy that I only use as a clit vibe anyway. A toy with a similar shape is the Lelo "Mona," so if that's an internal shape that is pleasing to you, but you want an external vibe, this might be your toy. You'll just have to gamble on the if it's fits you Goldilock-style: just riiiiight.