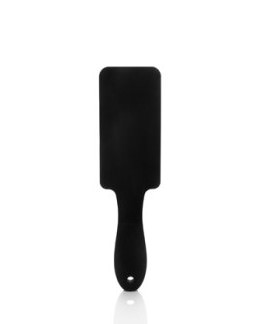 So, this is a rather hard core toy. I would not necessarily identify as a "hard core" kinkster, but I've been on the receiving end of some impact play in my day, and I can honestly say I really have not felt an equivocal wallop that the Thwack by Tantus gives with any other paddle or impact-play implement.
Made of quality medical-grade silicone with a super smooth finish that feels like velvet, the Thwack is a one-of-a-kind paddle in construction. I don't know of any other impact-play toy made of pure silicone. The premise behind this design is that kinkier poly, swinger, and really any non-monogamous folks can use 1 toy on many partners safely. It's non-porous and boilable, meaning it can be sanitized 100%. Sex toys can be expensive, and safety is a concern at many dungeons and play parties. A toy that you can use on one play partner at one event and totally sanitized to safely use on an entirely different play partner the next day is a wonderful thing.
Just to reiterate my first point: this toy is not for the faint of heart. The paddle is a large rectangle, almost a foot in length and 3 ¼ inches in width, with a flat sturdy handle, but the thickness and weight of the silicone "slapper" part is just so that it flops from side to side if waved back and forth. This sway builds momentum when swung and leaves its mark. It stings the skin to the point of raised welts almost immediately. Let me just say this again: this paddle is serious business.
Features include a merchandise hole at the base of the handle to make it easier to hang on a wall. If you're the type to show off your pain sluttiness with a wall full of goodies, that hole might come in handy. Otherwise it's pretty useless.
Overall, it was too much for me to handle, but I am a little wuss when it comes to impact play. The Doms I know love these toys. They adore that they can leave welts with a slight flick of the wrist yet no arm strength whatsoever. They gush over the fact that they can use the toy anywhere, on anyone, then just boil it to make sure they don't pass on any kind of STI or STD like Hepatitis (a growing concern in dungeons that perform blood-play due to it's longevity for living on surfaces). I am happy for these Doms. If they haven't heard about this line of Tantus toys yet (there are other shapes and sizes of these silicone paddles with fun names like "Pelt," "Wham Bam," "Snap Strap," and their newest the "Plunge" in which the handle is actually a usable dildo!), then I hope they can be reassured that if impact play at home or the dungeon is getting boring, this will quickly spice things back up.