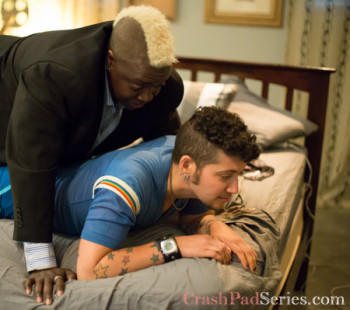 The Crash Pad Series episode 150 has such a fun yet sexy premise. Lance ArmStar and Q are two very sexy bois who were able to make me laugh and turn me on at the same time. Q arrives at the crash pad responding to a Craigslist ad. Lance has a pot Q is interested in acquiring. Lance is not sure if he's ready to part with it yet since it's good for so many things. Lance shows Q an example by smacking him on the ass with it. Apparently, he adds, it's also great to cook some pasta with too. Q would love to see Lance cook some pasta. Lance puts his face in the pot and licks furiously while giggling. There's something sexy about this even though he's being silly. Lance says they have to move on to the bed, they're going to find out just how good this pot is.
Lance shows Q the other pots he has to offer on the bed but Q is no longer interested in pots. Q sweeps the pots off the bed and throws Lance down instead. "I had no idea pots and pans were a thing for you." Says an amused Lance as Q undresses him impatiently. They kiss and giggle. Q slaps Lance's chest as Lance's fingers grasp Q's arms. They work themselves up as Q starts to grind against Lance. More slaps on thighs as they kiss rough and passionately. Lance insists Q's pants have to come off so they switch positions. They get the pants off while still enjoying each other. Lance gets back on top and I have to admit I love the smile on Q's face as they rub their bodies together.
Lance tells Q that he's got a cane, prompting Q to offer to cane him. Lance first puts on a strap-on then takes out the canes and give them to Q. Lance lays on the bed face down awaiting the canes. Two different sized canes are used: a thin one first then the thicker one. Lance strokes his cock while he's being caned. After Q has skillfully worked the cane on Lance enough to produce a lovely shade of light red, he runs a soft hand on Lance's hot ass. Q then plants a few strong well-placed, well-executed spanks. The caning doesn't last for long as Lance turns around and lays back. Q grabs his cock at the base of the strap-on and grinds it into Lance. I'm almost positive this brings him to orgasm but thankfully it's not over yet as Q states that he definitely has to fuck Lance now.
Lance puts a condom on the dildo and sucks Q's nipples. Lance offers Q the magic wand but tells him not to come. "I'm giving you my pots and my pans," says Lance while putting on gloves. Lance teasingly reminds Q not to come which I find very hot. Lance enters Q while he continues to use the magic wand. Q has to fight having orgasm the entire time. He tries but eventually gives in and has to come. Afterward, Lance caresses Q as they take a short break. Apparently Q is not done as he asks Lance if he is up to fisting him. Lance agrees excitedly, which I found very cute and sexy. Q lays back and Lance works his gloved fist in slowly, all while Q is using the magic wand. Lance tells Q he's so hot as he fists Q to orgasm. Afterward Q turns to Lance and asks, "So what else have you got for sale?" They definitely got more than they bargained for.