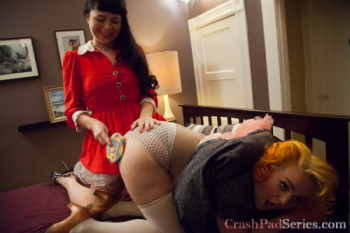 The Crash Pad Series episode 146 finds the adorable Siouxsie Q arriving at the crash pad to find her Daddy has gotten her a dolly, the absolutely cute Poppy Cox. Siouxsie is nearly overcome with excitement as she looks over her wonderful new toy. She plays with her arms and her pretty hair. There is so much fun and playfulness between them. You can tell Siouxsie can't wait to play with her new toy. Siouxsie first wants to change dolly's outfit. She lifts Poppy's dress to find cute polka dot panties. Siouxsie is inspired to get a big swirly lollipop and spanks Poppy with it. Unfortunately the lollipop breaks and she blames it on dolly. I really like the light D/s play in this dollification scene, just enough to add a sexy edge to it but not distract from the lighthearted scene they have going on. After admonishing Poppy, Siouxsie decides dolly does not deserve to wear a pretty dress if she's going to break her lolly. Siouxsie lifts Poppy's petticoat to peek into her panties. Siouxsie finds, much to her delight, she's been gifted with the "deluxe" model. When she takes off Poppy's panties we see a fabric plush sparkling pussy. A sequined vulva!
Siouxsie lays her feet over Poppy and puts a stiletto heel in Poppy's fabric pussy. This makes dolly laugh. Poppy goes from silent doll to giggly dolly. Siouxsie likes this and begins to slap Poppy's thighs and pussy. She takes off her dolly's bra and finds fabric breasts with jeweled nipples. Siouxsie realizes she can take this off to reveal her real breast and pussy. "You have all the parts!" she squeals in excitement. She straddles Polly to finger her clit and spank her thighs. Siouxsie thinks dolly is making too much noise, now that she can't stop giggling and moaning, so she puts a candy ball gag in dolly's mouth. Siouxsie licks and sucks dolly's nipples then slaps them. She wonders aloud what dolly's tastes like down there. She alternates licking and rubbing her clit.
Siouxsie announces she wants to play with more toys. She takes the ball gag off. Poppy wants to touch her but Siouxsie slaps her hands away teasingly at first then lets her fondle her breasts. So the Poppy goes from a nearly motionless doll to wanting to touch too. Siouxsie goes back to fingering her clit and licking her. When her fingers enter dolly, Siouxsie is happy she has a real hole. Siouxsie gets a big dildo and applies lots of lube then enters her. Siouxsie is pleased she has a talented dolly. Siouxsie continues to lick while putting the dildo in her. She decides to share her favorite toy, the Magic Wand Original. Siouxsie works the dildo in and out of Poppy while using the wand. When Poppy comes it's like she's really coming to life! While playing with Poppy's dress, Siouxsie wonders, "What's in your apron?"  Poppy explains that at the factory they gave dolly clothespins, which she shows Siouxsie. Siouxsie allows Poppy to use them on her, clipping them on to her breasts. Siouxsie asks if she wants to see how she tastes. It turns out Poppy has more clothespins. She licks Siouxsie first then clips the clothespins on her labia. Siouxsie is happy to tell her where to put the last one.
Poppy puts her fingers in Siouxsie, wiggling pins along with her fingers. She playful asks, "Can you take three?" Three fingers go in then she uses her tongue too. Siouxsie asks for her favorite toy, the magic wand they were using on Poppy earlier. The wand and four fingers are used to bring Siousxie to orgasm. They kiss to celebrate then they take off the clothespins. Siouxsie lays Poppy back; it's her turn again. Siouxsie straddles Poppy so she can lick her while she fingers her and flicks her clit. She used the Magic Wand and fingers until her dolly comes. But playtime is not over yet. Just when you think they're done toying with each other, they switch again. This time Siouxsie has the dildo in her while using the Magic Wand. Siouxsie comes again. The sexy fun has been building up in intensity and now dolly is fully alive and both and fully satisfied. They giggle, cuddle and kiss. Poppy is told to be a good dolly and put everything away. Siouxsie has definitely fully enjoyed her new toy and Poppy was happy to be a good dolly. I truly enjoyed Siouxsie and Poppy doing this kind of role play that was both really cute and really hot.
Full Disclosure: We did not purchase this product, it was sent to us specifically for review. Our policy is to, regardless of how we acquired a product, review it fairly and openly. No writer for Life On The Swingset will ever deliberately mislead our readers into believing that a product is good because of anything we received from the company. We are open and honest, and cannot be bought or bribed. If we love a product, we'll tell you, if we don't, BELIEVE us, we'll tell you that too. End disclaimer.