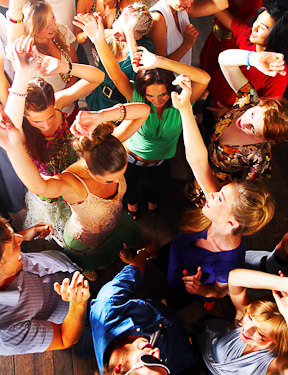 There's always room for more… Here is another set of games to get your group mingling and flirting.
These are games we've used for our meet and greet. We meet once a month in a public club where there are a few other patrons. We have between 60 and 120 people in attendance, couples and singles. Everyone is part of our online group. We started playing an ice breaker game because members had commented they were nervous about approaching new people. Quite a few people would come to meet and greet and just sit by themselves at a table. The games are a vehicle to get people up and mingling. They've been very well received.
My husband and I stand at the door and greet everyone and give them the items for the game. We run the game for the first hour, then we give the prize and enjoy dancing and meeting. The bar owners turn the music down when we play, at our request.
The week of meet and greet I post the game instructions online for the group. Most of what is written below are the instructions I post. I've also included a section about what I do to prepare the game and talk a little about the results.
I make a prize bag with little items related to sex or the holiday we're celebrating. Condoms, cock-rings, Mardi Gras beads, Pop-rocks candy, chocolates, curly straws. The owner of 3orMore.com was kind enough to send me bracelets, beer cozies, stickers and magnets. Kasidie.com sent me trial membership cards and "swag bags" with condoms. Members of our meet and greet group who sell sex toys have also done prize bags for me.
Have You Ever?
Each person will receive a slip of paper at the door with an activity on it. You will mingle and ask someone if they "Have Ever…" If they say yes, you give them your paper. If they say no you get to keep it and ask the next person you meet. When you earn a paper write your name on the back and submit it to win the grand prize.
When you lose your paper you can get another one from Brad and I. I will draw for the prize at 9:15.
Preparation:
Make a list of activities. Ours were almost all sex related or party related. They can be relatively tame: had a fmf threesome, to off the wall: fantasized about a threesome with Xena, Warrior Princess and her side-kick, to special abilities: had an orgasm performing oral sex, or unusual places to have sex: back of pick up truck. We had over 130 items. Many were very funny and unusual. We used all the papers within 45 minutes so if you have a large group, I would recommend 150 – 175 items. It was great fun to make the list.
Print slips of paper that say, "Have You Ever?!!" and then the specific item. I use a spreadsheet and convert the list to labels and then print and cut them out.
This is one of our group's favorite games. It is very fun and really gets sexy conversation flowing.
Porn Star Dancing
I will be handing out the game cards at the door between 8 and 9. Be on time to meet, greet and play!
Each person will receive a slip of paper. One side will have two items, the other will tell you which item you should describe. For example: the back of the card might say – Your Dance Moves -or- Your Sex Moves, the front will say – Describe Your Dance Moves.
The object is to keep your card and collect other people's cards. You must meet someone and ask if they are in the group. Show them the back of the card, then describe the front without showing them.
You need to be truthful, but you don't want them to guess correctly. So, you can say things like, "I like to move my hips, I like to get sweaty…" Make it as dirty or innocent as you like. You may physically demonstrate, just so you keep your clothes on. Give them a couple clues and then have them guess. If they guess correctly give them your card. They put their name on it to enter the drawing for the prize. You can come back and get another card and play again. At 9:15 I will draw for the fabulous prize.
Preparation:
Think of pairs of actions, one sexual and one everyday, that might have something in common and lend themselves to dirty talk. Mine were:
1. Your Dance Moves -or- Your Sex Moves
2. Eating Ice Cream -or- Giving Oral Sex
3. Riding a Roller Coaster -or- Your Orgasm
4. Working Out -or- Sex in Your Favorite Position
5. Getting Stuck in an Elevator -or- Having a Threesome
Print these pairs on one side of a paper. Space them evenly in columns. On the other side of the paper print, "Describe Your Dance Moves", etc. also evenly spaced to correspond with the categories on the first side. Each card will have the two items on one side and the one they should describe on the other. Half should be describing the sexy item, half the everyday action.
This game was not as easy as our usual games and some people had trouble understanding how to play. Other people had trouble being creative. The people who understood it, really enjoyed it and had fun. I would recommend playing it with a smaller group. A quieter setting where the instructions could be explained further and demonstrated would be helpful too.
Freak Flags
This month's meet and greet is on Flag Day. Let your FREAK FLAG FLY! We will be handing out the game cards at the door between 8 and 9. Be on time to meet, greet and play!
Girls will receive a card with a flag and name of a country. Guys will receive a card with the name of a country a foreign language phrase which means, "Fuck Me".
You must meet, greet and find your match. When you find your match come see me and enter your name in the drawing to win the fabulous prize. You are under no obligation to fuck your match, but who knows?! Remember, keep your clothes on at the bar.
You may get a new card and play again until I draw for the prize at 9:15.
Preparation:
I asked group members ahead of time to submit the foreign phrases which mean "Fuck Me." We have a pretty well-traveled group, so we came up with 12 different languages. You could also go online and find sexy phrases in foreign languages. Be sure to print the name of the country above the phrase. I printed them on paper and cut them out into individual slips.
I used this website, www.printableworldflags.com to make a document with the flags. The flags and phrases were about the size of business cards. Be sure to type the name of the country above the flag so it is easy for them to find their match.
This game went very well. Everyone loved it; it was simple but a little bit unique. Since there were only 12 different countries, I reprinted the sheets 10 times. At any time there were multiple people with the same countries. I allowed people to match in threesomes or foursomes, and they really liked that!
I hope these games are helpful to you and your group. If you have questions or suggestions for other games feel free to comment below.
If you are interested in running a swinger meet and greet you can check out my other articles; How to Run a Fantastic Swinger Meet and Greet and Swinger Meet and Greet Icebreaker Games