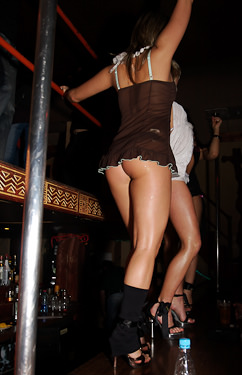 We have a (fairly) local, on-premise club that we enjoy attending about once every couple of months. We go when we are able to find a sitter and carve out the time for the long evening and the recovery that will take the few days after. Attending the club more often recently, we have come to know some of the regulars. And especially the hot regulars.
At our club, the hot crowd sits at the edge of the dance floor, right next to the stripper pole. They always have amazing shots, including a most delicious wine infused whipped cream. We dip our nipples into the whip cream and then dip them into sprinkles. We slide test tubes down bras, panties, and briefs for exciting tastes.
It's great to have a group to welcome us time and again. We love to bump and grind on the dance floor with these beautiful people who know who they are and love to share their sexy selves. We feel a part of things with hot people.
Here's the problem though with making friends at the club. They don't play much.Well, in the playrooms at least. They come every week and dance and flirt. They occasionally play a bit right there out on the dance floor and near the bar. But they rarely go back into the playrooms.
My friends at a club in another town raised the sane issue. A large group of people who know each another well. They spend so much time catching up with one another that they rarely play. Plus, since everyone is friends with everyone else, pulling one couple aside to go and fuck is…awkward.
I love being included as one of this hot crowd of swingers. But I don't want to forget the swing part. We are there to get down and busy. While we love the sexually charged atmosphere on the dance floor, we want more as well.
How can lifestyle folks fuck and still be friends? We are working through this dilemma.