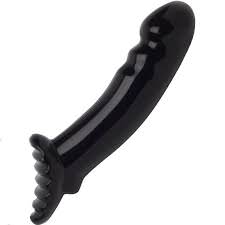 When the Wilde dildo by Fuze Toys (a subsidiary of Happy Valley Silicone) first hit my desk, I will admit it looked a little daunting. It was jet black and looked pretty large in girth. I briefly wondered if I was going to be able to enjoy it.
As strange as it may sound, one of the things that I do with dildos is to see how well they will fit in my mouth. (This seriously amused Cooper when I tried it with one of the Bad Dragon Products). I was able to suck the Wilde well enough, but it was a bit too big around for me to deep throat all of its insertable length. But as long as I can get it in my mouth, I was sure it wouldn't be a problem in my pussy.
The specs:
The Wilde is made of 100% body safe silicone.  It is nonporous and firm, yet flexible. However, it is very sticky which means it picks up dust, lint, hair and any other small particles that touch it. Luckily it is easily cleaned with soap & water or can be placed on the top rack of the dishwasher. With any toy made of this sticky type of silicone, I prefer to have toy wipes on hand (to de-lint it) as well as lots of water based lube. (Never use a silicone based lube with silicone toys).
The Wilde measures 9" long (7.25" insertable) and has a diameter of 1.75" (that's about 5.5" around – no wonder it didn't go down my throat very well!)
It is slightly curved with a defined head followed by a couple of ridges. It is designed so that it can be worn in a harness (flared base) and has ridges that will rest up against the wear's pubic mound and clit. The Wilde also has a hole at the base where a bullet vibe can be inserted for added pleasure. The hole is angled in such a way that it is not only pleasant for the wear as the ridges vibrate, but with a strong bullet, the vibrations will travel down the shaft making a pleasant sensation for your partner.
My thoughts:
Solo Play:
While I am not usually interested in using a dildo for solo g-spot play because my arm/wrists tend to get tired and would rather have something like the Stronic Eins or the Elise 2 move instead, I actually did enjoy the Wilde. The flared base worked adequately for a handle; though I ended up simply leaving it inside as I enjoy the feeling of being very full. Then adding a clit vibe resulted in a very intense orgasm.
Partner Play:
Just as Fuze Toys claims, Wilde is ergonomically designed for harness use. It fit very nicely in both harnesses by SpareParts and RodeoH. The base is a nice concave curve that perfectly cups my pubic mound and hugs my clit. Though once again, I needed toy wipes in order to remove dust and lint before applying lots of lube so that it could slide into my partner. I do suggest that because of the larger girth of this toy that it not be used for beginning pegging.
Overall, I would recommend the Wilde by Fuze Toys for anyone wanting a dildo with decent girth, though I wish it was not such a dust collector that needed to be cleaned several times per play session.
Full Disclosure: We did not purchase this product, it was sent to us specifically for review. Our policy is to, regardless of how we acquired a product, review it fairly and openly. No writer for Life On The Swingset will ever deliberately mislead our readers into believing that a product is good because of anything we received from the company. We are open and honest, and cannot be bought or bribed. If we love a product, we'll tell you, if we don't, BELIEVE us, we'll tell you that too. End disclaimer.