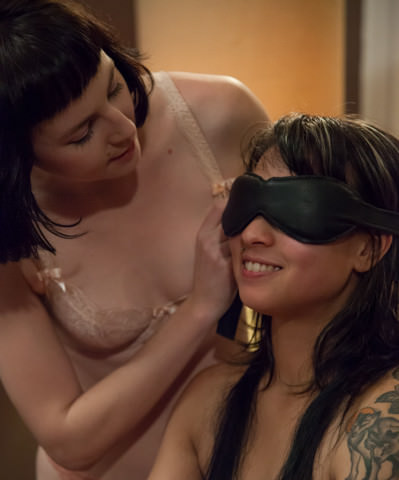 In The Crash Pad Series Episode 140, Coral Aorta picks up Siren Wolf at a club and takes her back to the Crash Pad. Coral Aorta is a hot femme Domme and Siren is a sexy subby switch. Coral knows that Siren likes to please and intends to find out exactly how much. They've just returned from the club and are tired. Siren rubs Coral's feet, she likes being nice. Coral thinks nice is not all she's looking for; maybe she's looking for rough.
Coral pushes her foot toward Siren who responds by sucking her toes over stockinged feet. Siren offers to take off the stockings and continues to suck on toes. Siren points out teasingly that she's not wearing any panties, she "forgot." She offers to take off Coral's other stockings and continues to suck on Coral's toes.
Coral wonders why Siren doesn't wear panties, goes home with a strange girl and wears a dress that can be easily taken off. She unzips Siren's dress and asks her if she'd like to be her good little slut. I'm already enjoying their sexy D/s chemistry but this I like most of all. Nothing turns me on more than that question! "Take of my dress!" Coral commands. They kiss and touch, exploring each other. Coral tells her she wants every part of her. As they kiss Coral asks if Siren likes a little pain. She does and Coral proceeds to pinch her nipples, twisting them. Coral's way of talking to Siren in almost a taunting way is very hot. She knows what Siren wants but asks her in teasing questions. I really like when she does this while running fingernails down Siren's arms and torso.
Coral seductively points out that there are lots of toys in this room. Siren wants to see some of them. Coral demands that she ask politely. Coral puts a blindfold on Siren. She doesn't get to see the toys but "see" them in a different way. Coral first tells her to get on her knees and show her ass. Coral strokes then slaps Siren's ass. Coral then takes out an impressive flogger, which she gently drags across Siren's back then flogs her with strong impressive strikes. Siren is a bit mouthy so Coral spanks her then flogs her some more. I really like that Siren is a somewhat naughty sub giving Coral opportunities to discipline her. Coral drags her nails over Siren's red ass then bites. This really turns Siren on. Coral finds Siren's piercing; Siren says it helps her to come more easily. Coral asks her if she deserves to come. What a delicious question!
Coral wants to show her another toy. She kisses Siren, compliments her then puts heavy nipple clamps on her with a chain attached between them. Siren arches but enjoys the feeling. I'm impressed she can handle the clamps. Coral puts on gloves and gets some lube while Siren waits on all fours patiently. Coral uses fingers to stimulate Siren while she's still blindfolded and clamped.  Coral tells her to turn around and continues to work her fingers from the front while kissing her.
Coral gives her a quick peek from behind her mask as a tease. She asks Siren if she wants to see and makes sure she again asks politely. Once the blindfold is off, Siren takes off Coral's bra as ordered and enjoys her perky tits. Coral has her lie back which is a challenge with the nipple clamps. Coral works her hand into Siren's pussy while a thumb strokes her clit.  Another favorite image of mine is Siren with the chain between the clamps in her teeth. Coral points out that Siren likes the pain with her pleasure.
Coral slaps her pussy and alternates giving touches, penetration and slaps. Coral orders Siren to touch herself, while she puts on a strap-on harness. She put's a condom on the dildo and Siren enjoys sucking on it. Coral then moves into position to enter her and thrusts powerfully. Siren rocks in response. Coral pulls her on top to ride it, giving her a slap or two. Coral loves thrusting up into her while Siren rides the dildo all the while continuing to spank her. Coral tells her to get on her knees and show her ass again. Coral spanks, fingers her again then enters her from behind. Siren loves the slaps she gets from Coral and also enjoys the fingers in her mouth.
Coral tells Siren to turn around again. This time she rewards her good sub with the Hitachi Magic Wand. Coral asks if she wants her cock again. Siren says, "Yes!" Back on all fours Siren is told to hold the Hitachi on and she has to tell her when she is going to come. When Siren asks to come Coral hesitates at first then gives her permission. That bit of anticipation is very exciting. Sitting back on Coral's cock, the Hitachi on her clit, she finally comes. Her expression as she comes is amazing.
Coral then takes off the clips from Siren's sensitive nipples. Now it's time for Siren to take care of Coral with what she has learned. It's Siren's turns to finger with gloved hands. She takes a different dildo and offers Coral to her playfully, which nearly gets her disciplined again. Siren puts the dildo in Coral while kissing her and sucking her nipples. Coral uses her own fingers to help things along. Coral gets on all fours while Siren continues with the dildo in her ass. Coral uses the Hitachi as Siren enthusiastically uses the dildo of her. All this brings her to an intense and long orgasm that is just awesome to watch. Coral rewards her with some spanks for being her good slut. Coral would love Siren to come back and she agrees. I'm sure there is much more pleasure and pain for these two to explore.
Full Disclosure: We did not purchase this product, it was sent to us specifically for review. Our policy is to, regardless of how we acquired a product, review it fairly and openly. No writer for Life On The Swingset will ever deliberately mislead our readers into believing that a product is good because of anything we received from the company. We are open and honest, and cannot be bought or bribed. If we love a product, we'll tell you, if we don't, BELIEVE us, we'll tell you that too. End disclaimer.