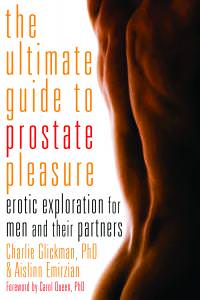 Slow and steady wins the race.
This one sentence is quite possibly the best bit of advice in The Ultimate Guide to Prostate Pleasure. But that's not all you will find in the book. Acclaimed sexuality educator Charlie Glickman joins forces with workshop instructor and sex coach Aislinn Emirzian to create a book that delves deep into the details of prostate pleasure. A wealth of information is combined with interviews conducted of hundreds of men and their partners to create an amazingly comprehensive guide. It is a mixture of clinical detail, helpful advice and friendly encouragement. As someone who still finds much to learn when it comes to anal play, I was eager to read it.
The book starts out with a series of frequently asked questions with detailed and carefully thought out answers. Anal play and prostate exploration is something that is not often openly discussed, even in sex positive communities. There are many misconceptions and concerns. The book strives to dispel myths so readers can move forward and explore in a safe and comfortable manner. Several chapters to go over every detail about the prostate; where the prostate (or p-spot) is exactly, how it works, and all the different ways it can be reached and stimulated. I really appreciated the time that was taken to reassure you that not everyone is going to experience pleasure the same way, or even experience pleasure at all. Giving many options and helping the reader to better understand how their body, or their partner's body, might respond will help to get past any discouragement that might occur during your initial attempts. The book also gives you mental techniques to enhance your experience. Anal play requires relaxation and the right frame of mind can put you at ease during play.
They supply an abundance of advice on how to start the conversation with your partner. Solo play is encouraged to start but eventually you are going to want to add a partner to your fun. The hints on how to approach the subject with your partner and how to begin the discussion will no doubt help those who may have been thinking about prostate play but did not know how to broach the subject. Once you have started the conversation then you can continue down the path to more exploration. They also bring to light how there may be a great deal of pressure and apprehension when deciding to try prostate play. Society has imbedded the idea that a man must always be on top and be the one penetrating. Great care is taken to explain how the act of penetration has nothing to do with their role or the state of their sexuality. It has everything to do with the pleasure of the experience and the wonders of sharing it with their partner.
Once the book has laid out the necessary ground work of introducing you to your prostate, how it responds, basic beginning techniques and tips on starting the conversation, they get into the actual act of prostate pleasure itself. The chapters provide information for gay couples, guy-girl couples and the transgendered. Illustrations enhance the written explanations. There is an important chapter about hygiene that also helps to dispel fears about the possible mess during play. Other chapters go into great detail about things such as listening to your body, stopping if you experience pain, how to use your fingers, how your partner can use fingers, the importance of lube, and a variety of positions. How to properly massage the prostate with different angles are accompanied by illustrations of the various ways you can use your fingers. They also delve into fisting, pegging and include the benefits of playing with the perineum.
The book also goes into the best toys for prostate stimulation. All variations of dildos, butt plugs, vibrators and other toys fill one chapter while they go into detail about anal and strap-on sex in another. Both chapters have great recommendations, helpful tips and safety info. There's also a chapter on the prostate health that includes the health benefits of prostate massage and how to take care of your prostate. Don't forget to check out the resource list at the end of the book. It is filled with excellent book recommendations, places to buy toys and health resources.
What really makes this the ultimate guide for me is the relaxed tone of the writing. It was like talking to a friend. I found adding the personal accounts from the interviewed subjects gave insights into how differently we respond to pleasure. Also, the book definitely doesn't shy away from using colloquialisms or slang terms. When the book gets into clinical subject matter, the words get more clinical. But all the everyday sex topics where approached casually in everyday language. The book is straightforward and works hard to remove the stigma and feelings of taboo. I wish we could all talk to each other this comfortably, open and honest.
No matter what your sexual orientation or where you are in your exploration you will get something out of this book. Charlie and Aislinn will also be doing a book tour where they will share the marvels of male erotic pleasure in person. See the official website for details.
The Ultimate Guide to Prostate Pleasure can be found at Amazon.com.