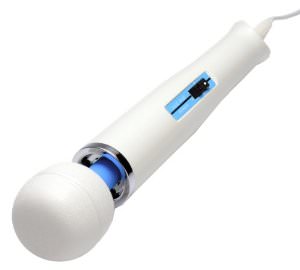 My boyfriend originally introduced me to the Hitachi Magic Wand. He touched it to my clit and I exploded in orgasmic bliss. I loved the thing. So when the Swingset received one to review, I was over the moon. The idea of playing with it on my own sent shivers to my nether regions.
When the package came, I eagerly unwrapped it. I was immediately a confused by its packaging and instructions. The box has color photographs of a woman using it on her back, neck, shoulder and calf as well as one with a man using it on his back. The instructions had a full diagram showing where on the body the massager should be used. No where were the genitals listed. In fact, the instructions explicitly state not to use over "swollen areas" and "do not use in wet location of body." These were strange instructions for a vibrator – but the Hitachi Magic Wand is billed as a massager, not a vibrator.
After tossing the useless instructions, I got down to business. The Wand itself resembles a very large microphone with a power cord and I was hoping that it would have me singing in no time. While I remembered the bliss that my boyfriend had elicited, I wondered how much was him and how much was actually the vibe. It usually takes an awful lot of stimulation to get me to cum and most vibrators are not powerful enough.
After plugging it in, I slipped a condom over its head. The Hitachi Magic Wand's head made of a porous plastic material, so barrier protection is needed to keep it more sanitary – a necessary condition for sharing toys and avoiding infections.  There are silicon head attachments that one can purchase separately – these might be worth looking into, if you are as health conscious as we at the Swingset.
The Wand has two speeds low and high. I switched it on low. It buzzed to life. While it is not the most quiet of vibrators, it is the most powerful. Even on low, the Wand is much more powerful than most vibrators that I have encountered. On high speed, this thing felt incredible and had me cumming in no time at all. Anxious to see just how powerful this vibe was, I slipped a dildo inside of me and touched the Wand to it. I could feel the vibrations up inside of me triggering another orgasm.
I have found a new favorite toy. I absolutely LOVE the Hitachi Magic Wand and have been recommending it to anyone who likes strong vibration.
For our friends in Canada, purchase your Hitachi Magic Wand here
Full Disclosure: We did not purchase this product, it was sent to us specifically for review. Our policy is to, regardless of how we acquired a product, review it fairly and openly. No writer for Life On The Swingset will ever deliberately mislead our readers into believing that a product is good because of anything we received from the company. We are open and honest, and cannot be bought or bribed. If we love a product, we'll tell you, if we don't, BELIEVE us, we'll tell you that too. End disclaimer.