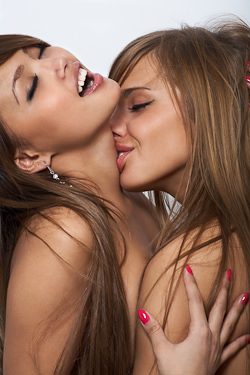 My name is Zoe Hanis and the New Year is shaping up quite nicely.
Guy had taken me to a New Years Party where I met a girl. She was beautiful: tall and slender with long legs and perky breasts. And she allowed me to fuck her.
She had been late for dinner. We had already sat down and were working on appetizers when she and her husband arrived.  She was taller than him – I didn't realize how tall she really was until later in the evening, with a pixie cut and snake-like necklace of silver ivy drawing one's eyes towards her chest. Her cleavage showed above the line of a short cut dress that showed off her slender frame. They were new to the group, knowing only the hosts. She introduced herself; trying (and failing) to get all of our names straight. She was curious and friendly and … had completely enthralled the gentleman sitting next to her.
Later, after dinner when the tables were cleared and people were milling around, I pointed out to Guy how pretty she was. She was drinking wine and flirting in a group of men. He commented to me that I should tell her this. I chuckled. It seemed so simple but to tell a stranger that she was beautiful actually meaning that I would very much like to kiss her; to run my fingers over her (what was sure to be soft) skin; was beyond me.
I watched her out of the corner of my eye while I chatted and flirted and rang in the New Year
She was sitting across the room chatting with the gentleman that had shown interest in her during dinner and a friend of mine. I found her husband when I went to get another drink. He was intrigued by the smoothness of the satin robe that I had thrown on after playing earlier with Guy and his friend; it gave him an excuse to touch me. We chatted and kissed. I told him that his wife was beautiful and that I wanted to kiss her. I was surprised when he said that she would enjoy that.
I suppose I shouldn't have been so surprised, as many (if not most) of the women that I have met in the lifestyle are bisexual. But in all honesty, the thought that my interest in her could possibly be reciprocated, shocked and excited me. I know the effect I have on men; I had no idea that the same could hold true for women.
He took me by the hand over to have me sit in her lap. I was worried that it would seem rude to those she was chatting with, but looking in her eyes I forgot all about that. And told her how beautiful she was. I kissed her; gentle at first but soon wanting, no demanding, more. She moaned and allowed me to take her breath away. Soon her husband had joined us in kissing. We pulled back to talk and I asked about their last STI testing (the STI test discussion is mandatory with potential sex partners – a rule that Guy & I agree most strongly on) and they told me that they were soft swap only. I told them that if they wanted to continue this upstairs then I would need to check in with my bf. So they let me up to find him.
I found Guy easily enough and we disappeared into the kitchen. We chatted a bit: about what soft swap meant; about what he would be comfortable with me doing in my intoxicated condition and given that their STI tests were not within the last 6 months and about me being nervous having not really played much without him (or outside his group) before.
After gaining confidence and a bottle of water into my system, I went out to find that she had moved on. She was holding court in another part of the room; towering over everyone. I moved into the circle to find that the gentleman from dinner now had her attention and affection. I stepped back and snuggled up to her husband. He told me that it looked like I was going to have to fight said gentleman for her; but that she would like that. I tried to explain that I was not going to interrupt her fun; that if she seemed to like him than who was I to discourage it. But her husband told me that she likes him AND she likes me.
Well, I thought, if she likes me and her husband obviously likes me, then I was not about to let someone else stand in my way. I made my presence known to her when he was trying to untie the knot of her dress's shoulder straps from behind her neck. He seemed to be having a difficult time so I chuckled and showed him how it should be done – fingernails are handy for many things.
I took her face in my hands and pulled her down to kiss me. Soon one of my hands was behind her neck trying to grab her short hair and the other was making its way up her skirt to find her panties in the space between her legs. I kissed and caressed, tantalized and teased. The gentleman was still behind her touching her or at least trying to. I pulled back and asked her if she was ready to continue this upstairs. She turned to him and said "I guess we are going upstairs now." There was a moment that I thought that he was going to say something, either try to argue or ask to join us; but he did not.
She was even more beautiful naked. Her hubby had me leave on her stockings as I undressed her.  Her bellybutton was pierced, the jewel cold to my tongue. Her skin smelled and tasted wonderful. The three of us kissed and fondled for a while. She explained that she was hard to cum – a condition that I had known well for years.
I excused myself to go to the bathroom; the water had gone through me. It seemed that I started a trend she went next.  While she was gone, I explained to him that oral sex was going to have to be done with a condom or dental dam or not at all – that was a rule in playing safe. When she got back, it was his turn to use the restroom.
Her hands were icicles. I told her how I usually put my cold hands on Guy because he makes the funniest faces. She wanted to see, so I called him up. I had been getting nervous again and his presence calms me. Luckily he said that he was not busy and allowed her to touch him. Unfortunately he didn't make the funny faces – perhaps because he was standing there with an absolutely beautiful naked lady who was nearly as tall as him.
He suggested that I fuck her. I think we all sort of jumped at the chance. He got me into the Feeldoe and harness and dealt with the lube (I really dislike the feel of it on my hands).
I fucked her as she lay on her back her legs spread out. Her husband helped by cupping "my balls." It was fabulous. And it was very tiring – I had an inkling of how much of a workout sex was for the guy since I like to ride on top, but I never realized just HOW exhausting it was!
After a while, we flipped over and she rode me. During this time, Guy slipped out. Though I was glad for his guidance, it was good that he was able to give me some time to learn on my own.
Being ridden was intense and I was soaking the harness when I needed a pause, so I asked to watch her being fucked by her hubby. They were glad to oblige and began doggie style so that I could see well from where I lay. It was fascinating to once again watch sex so close up: his hard cock splitting through her pussy lips; his dark black skin against the pale cream of her complexion. I was thrilled to be there; to share this intimacy with them.
He told me that I needed to use my cock or take it off. So I explained that the only way that I could use it from the position that they were in was on him. He smiled as she piped up "No! I get to do that first!"  So I took it off. He fingered me while riding her for a bit before needing to use the restroom.
While he was gone, she explained again that it took a long time for her to cum. Thinking on Guy's usual advice "just do to her what feels good to you", I decided to introduce her to my Hitachi Magic Wand. She liked it but also needed internal stimulation – as I usually do as well. Instead of going into Guy's big bag of toys, I picked up the harness to extract the Feeldoe. With her hubby kissing her and fondling her breasts, I went to work on her with the dildo and vibe. She was soon screaming and shaking in orgasm. Her hubby was impressed. His comment was that she rarely cums like that and never on her back as she was. I was pleased. She was glowing.
She asked me what they could do for me, but I didn't need anything. I could have had another orgasm, but it wasn't necessary. I had already soaked through the blankets, bedsheets and harness while fucking and being ridden by her.
It had been a wonderful experience and one that I would very much like to try again.