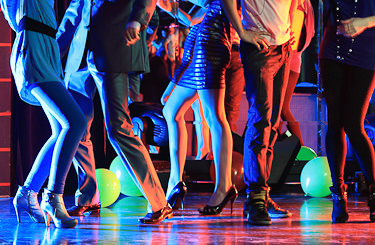 I haven't blogged much over the past couple of months. Yes, I've had articles and reviews but not much about what's actually going on as we continue to pursue the life non-monogamous. Mostly it's because it's been slow going. Work, kids and being suddenly a little light in the pocket change department made it hard to get going in the lifestyle. This is why we decided to head into uncharted territory, the swinger nightclub.
Up until this point we were meeting other couples one on one through Kasidie.com. I use the term "other couples" loosely as there wasn't a deluge of offers, mostly a few flirts that didn't amount to much. We dated another couple for a little while and at first it seemed like exactly what we were looking for. We had fun dinners together then some soft swap sexy time afterward. They invited us to social and sporting events with them. Then the swinger drama fairy visited us and things got… awkward. It was an interesting experience to watch another couple hit a bump in the non-monogamy road.  Being newer in the lifestyle made giving any advice feel a little uncomfortable. When they didn't respond to our last email we decided it was best to move on.
After a prolonged period of inactivity we were determined not to lose momentum. We decided to check out a nightclub on our own. Inspired by Ginger's stories of the sexy vibe they've experienced in clubs we decided to get past our own apprehension about swinger nightclubs. We hoped to find sexy friends to get to know or, at the very least, enjoy some steamy time together without the threat of kids waking up. We found a weekend that we actually had some free time (few and far between these days) and I set about trying to find a nightclub.
We made our decision, found free time, saved up money for the event then found we had nowhere to go. I did some further research off the Kasidie site (gasp!) and found a nightclub that is in our neck of the woods. The nightclub had a dance floor, lots of places to hang out and several rooms. We secured our sitter and I put ourselves on the list. As newbies we were a touch terrified by the new experience. We decided to have no expectations other than just enjoying our time together in a space where we would be free to be as sexy as we want to be.
We arrived really early; so early our BYOB bottle had a single digit number. We got our drinks and sat on a couch by the empty dance floor. And we sat, and we sat…. and we sat and we sat. So did several isolated couples and a few clusters of people. We tried to start a conversation with the couple next to us but they were with other people they knew so it didn't progress more than "hi, nice to meet you." We felt like wallflowers at the school dance. At least we had each other so when the dance floor started to fill up we joined in. I love to go dancing and hadn't been out in ages. If I didn't have a single sexy moment the entire night I would be happy I spent a couple of hours on the dance floor.
The place became quite crowded after a while and we had fun watching other couples get their groove on. One thing we enjoyed about the nightclub was the freedom couples had to touch each other, expose what you wanted and be openly sensual. After a while we decided to check out some of the other rooms. The bar area had groups hanging out and talking but I've always lacked the skill to break into a conversation that's already started. My husband talked with a couple of guys while online to refresh our drinks but it was friendly chat and nothing more. No one approached us and we were too unsure to approach others after our initial attempts to get to know people didn't go anywhere. Finally we decided to move on and find a spot where we could enjoy each other.
It was late into the evening so the upstairs rooms were all full. We couldn't even find a couch to sit on. When a couple got up off a hall couch we immediately took it. A room in front of us opened up shortly after we sat. Surprised by our sudden good fortune we took the room. It only had curtains for privacy so H pulled them closed as best he could. We weren't worried about full privacy it was just our first time in such a public place and we wanted to make sure we could relax and enjoy it.
Enjoy it we did. There was something about the erotic sounds and exposed decadence surrounding us that really turned me on. We thoroughly enjoyed each other. Afterward we wandered around the club a bit but we were now both tired and my feet hurt from wearing 4" heels for several hours. Happily we walked back to the car and did our usual assessment of the evening. I was surprised that H was so receptive to the experience and even wished afterward that we had done more publicly. We talked about what we'd like to try next time and hoped that after a while we might get to know someone. We enjoyed our first nightclub experience and look forward to returning.
We also want to look into other types of clubs. This one got very loud and dark making it impossible to have conversation. We'd like to find one that is geared towards being social, not just sexy. Hopefully by checking out a variety of places we can find the place that works best for us. We still wouldn't mind meeting a couple one on one but until that gets a little easier to accomplish we'll continue exploring other options.