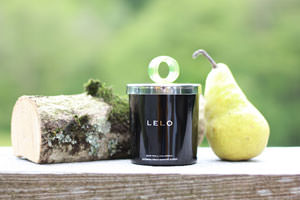 I'm a fan of giving pleasure.
I know that's the kind of thing that people like to brag about because it makes them look good, but lately I've really started to enjoy giving massages. I'm nowhere near the massage guru that Dylan is, but I've been enjoying the process.
Another bit of Cooper trivia now: I'm weird about lubes and oils. When I use lube I try to use lubes with pump tops because I really don't want it on my hands…I must admit to discretely wiping my hands off on the Liberator Throe beneath my partner when I do wind up with lube all over my hands.
So, with all that in mind, you must understand my distaste for massage oils. But when our friends at LELO offered to send us some items from their massage collection, I leapt at the opportunity to try something great. We've been impressed with nearly everything LELO has offered, so I know that even if I have to put up with oil on my hands it'll be GOOD oil.
They sent us the Spicy Clove & Amber scented Flickering Touch Massage Oil (which, from a distance looks like Fuckering Touch, incidentally), and a Snowpear & Cedarwood scented Flickering Touch Massage Candle. (see above re: The Fuckering [which would be a cool band name…or porno horror flick])
I've used and liked massage candles in the past due to really not feeling like they coated my hand, so I decided to give that a run first.
I don't recommend this strategy, by the by.
Why for? Well the candle takes a good long while to get all melty. So long, in fact that we started the massage without it, used it a little bit, then moved onto the oil. It simply melts VERY slowly. So I recommend lighting it, starting with the sex, and then bringing it back around at the end for massage afterplay.
Once melty, how did it work? Well, I'll repeat the above comments that if you, like me, have a problem getting your hands all oily, a massage candle is a great way to go. You pour the melted wax on your partner, and unlike, say, scenes involving Madonna and Willem Dafeo in early nineties Basic Instinct rip-offs, the melted wax doesn't do horrible burny things to them. It stays liquified where you pour it, then you can go to town massaging.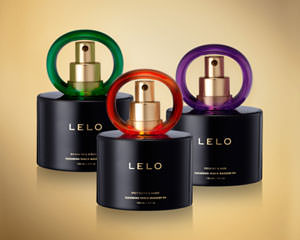 I love the way the melted wax feels on my partner's back. Smooth, soft, not sticky or gooey, or (god forbid) oily. The wax feels like lotion, but unlike lotion, it doesn't get rubbed in so quickly. It stays smooth and soft long after you start rubbing, which means that this candle will last you for a good many massages.
One thing to think about: Don't use up all your wax early. This may seem like a given, but if you're not planning a long and leisurely massage, you may run out of melted wax if you don't use it conscientiously. It's not a big deal, you can always wait for more…or take a sex break. Your call.
My only complaint (and I suppose this would come down to scent sensitivity) is that Snowpear & Cedarwood is an INCREDIBLY subtle scent. I could barely smell it at all even sticking my nose into the candle. (Flame blown out first.) I'm a fan of scents in massages, so this takes the whole "not overpowering" idea and runs well past the goal with it.
Another night brought the opportunity to use the massage oil. With a deep breath I squirted some in my hands and rubbed it around. First I noticed that the scent was stronger, but still not strong, just more in line with what I look for in…a scent I suppose. The oil wasn't excessively oily, either. I don't know how to better explain it than that. Far more in line with a silicone lube than…say…baby oil.
With my hands well oiled, I dribbled some oil down my partner's back and started to rub. Much the same smoothness as the wax, soft, not icky in the least. I was counting myself impressed with both of them, ready to grab my iPad and leave all sorts of little oil fingerprints on the screen as I wrote my review.
But then the oil started drying up or rubbing in or something…what is it that oil does? I had to reapply. I found myself reapplying far more than I had with the wax. But both got me to the finish line of the massage. G-Spot orgasms.
Isn't that the finish line when you give a massage?
So, in all, even for this gooey-phobic guy, both gave good performance and were not upsetting in any way. I'd say the candle edged out the oil because of its staying power, and the fact that candles are just awesome. Two more great products from LELO, the quality we've come to expect.
Perfect for that holiday massage.
Full Disclosure: We did not purchase this product, it was sent to us specifically for review. Our policy is to, regardless of how we acquired a product, review it fairly and openly. No writer for Life On The Swingset will ever deliberately mislead our readers into believing that a product is good because of anything we received from the company. We are open and honest, and cannot be bought or bribed. If we love a product, we'll tell you, if we don't, BELIEVE us, we'll tell you that too. End disclaimer.