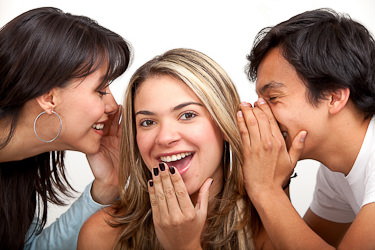 My name is Zoe Hanis. I am polyamorous and my parents know.
Earlier this week, I sent the letter to my parents and my in-laws. The email went out first thing in the morning; and the wait began.
My parents were the first to respond. I found this interesting because they were the ones that we were most worried about. Their email reply was simple:
We are not surprised. Although it is not our way of life, we accept it for you as we accept homosexuality in this day and age. We still love you both.
A quick and short response – it made me nervous; compounded with the fact that when I spoke with mom (via phone) later in the day, she did not mention it. But I suppose it doesn't matter if they don't want more information or simply ignore the topic; what is important is that I no longer have to lie.
Hubby's mom didn't respond until the next day. We figured that she either hadn't checked her email or was forming a thoughtful response. Turns out that is was the latter. Her email said:
OK! tell me something I had not already guessed and would have bet money on.

It is your life and I hope you live it as happy and as conflict free as possible. You may live however it suits you, I do not feel the obligation to object or approve. As you say you are still the same people we love. And I won't point out the pitfalls of the course you have chosen, I am sure you have discussed them to death. So I can only say Good Luck.

Having said all that I will only add: negative impacts to/on MY Grandchildren do not make me a happy camper. So, I guess the onus is on you to keep it in some semblance of order until they are not dependent  on you. (money needs don't count) They are happy and well adjusted delightful children (as much as Kids can be) the "danger" time is not now— but in a couple of years when the time of comparisons and looking around happens.

Just an FYI  — We have shared this with Hubby's Brother and he is big time supporter of your choices.

I don't know what your folks reaction is but I thought I would share this for what it is worth.

So take care, be well and keep in touch.
Hubby read her reply before I did. Then texted me and his girlfriend to say that since his family is supportive, he no longer cares who knows. I told him I wouldn't go that far – I am not ready to tell the other PTO moms.
And then…  My sister put her two cents worth in.
Well, [ the husband] and I can't say that we are surprised. Judging by both of your behavior in the past several years, as well as Facebook pics, we could tell this might be the case. It is between the two of you how you want to live your lives and how you treat your marriage. I do not feel that it would EVER be the way in our lives.  

I fear for my niece and nephew. It is not healthy for them and wonder how, as they grow up, they will feel about it. I would not like my kids to be subject to it, nor will we acknowledge that their aunt and uncle have "other partners". It will not be something that they are privy to.  

You both have always been ones that are outside the box on many things. Therefore, really no need to be any different towards you.
Huh. Her response was the one that I had expected from my parents. I thought it would hurt, but it just angers me. The idea that she knows better than I, what is "healthy" for my children is insulting. I guess that I can understand not telling her children about us, but I will be curious as to what happens when my children mention it or when we bring an "other partner" to visit. I had never expected my sister to be so judgmental and close-minded. Well I guess she won't be raising the kids if something happens to Hubby and I.
So our secret is out. We no longer have to hide from those closest to us either by friendship or blood. It is true that in coming out you find out who unconditionally loves you. In this case it is Hubby's family and my folks. My sister (and her family) will either come around or not. But in the end it doesn't really matter because we can finally live and love the way we wish with open and honest communication. And that is such a wonderful feeling.