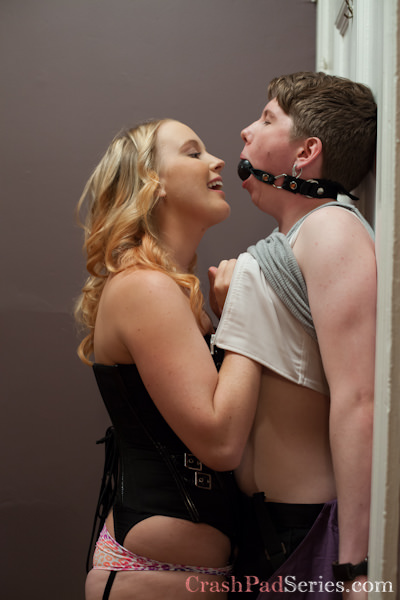 In Episode 134 of The Crash Pad Series we meet Kylie Liddell and Oliver Hyde. Kylie is a ferocious top while Oliver is a petulant bottom. They enter the Crash Pad with Kylie pulling Oliver, who is wearing a ball gag, through the door with an arm around their throat. Kylie pushes Oliver against the door, pulls up their shirt and rips off their top. She then bites and pinches Oliver's nipples. Kylie knows Oliver is going to get top surgery soon.  She says, "It's mine and their last hurrah. Might as well take advantage of it." She is going to thoroughly abuse Oliver's breast before they go and they will both enjoy every minute of it.
Kylie demands Oliver takes off their shoes. Kylie chokes and pinches nipples while Oliver is doing it, giving them the challenge of distraction while performing her task. Kylie gets things going by putting clothespins (that were apparently nicely painted by Oliver) on Oliver's breast, a whole row across them. Kylie then takes out a cane, which she taps on Oliver's crotch then pulls up on the clothespins.  Kylie berates Oliver for lying back instead of sitting up during all this. Kylie continues to slap the clothespins with the cane all the while. She insists Oliver sit up and put their hands on their head. Kylie takes a pin off and puts it on Oliver's lip and then another on Oliver's tongue. Continuing to taunt, Kylie makes Oliver lie back then rearranged the clothespins. She puts Oliver's briefs in their mouth and uses the cane again.
Out comes a Hitachi Magic Wand, which Kylie uses on Oliver. She tells Oliver they must ask for permission to come. Oliver struggles to hold back as the pain bring them closer to orgasm. Kylie biting Oliver's breast, using the cane and the Hitachi have Oliver writhing and begging but Kylie delightfully refuses. She lifts Oliver up by their neck then kisses and bites their cheek and neck. Kylie pinches and pulls Oliver's breast some more then slaps them, all the while denying orgasm. Oliver, playing the defiant sub, tries to pretend they don't like it. You can tell Kylie likes this bit of resistance. They talk and tease each other in a fun and sexy way that balances out the intensity of their pain play.
Kylie produces a strap-on. She has never used one on Oliver before. She puts clothespins on their nipples again, lays them back and with hand over throat slaps Oliver's clit over and over. Oliver forgets to count and has to start over again then loses count. Although Kylie is being hard on Oliver it's still playful. You can tell the pain really turns Oliver on so they may have initially forgotten to count on purpose. Kylie grabs thighs, punches flesh, then works fingers inside of Oliver. She then moves Oliver down to the edge of the bed so she can add the Hitachi to fingers. Oliver still is denied orgasm so they have to work hard not to come. Kylie enters Oliver with strap on, uses Hitachi a bit, and then leans in for a rougher ride all while pulling on the clothespins and refusing to let Oliver come. Oliver begs for release.
Kylie finally gives Oliver permission to come but they have to do it when the clothespins are pulled off while still clipped. The pain of that accompanies the pulling of the pins contributes to a powerful orgasm. This is followed by pinches and slaps but then kisses. They kiss while Kylie strokes and grabs Oliver's throat. Kylie then gives Oliver a final task, to bring her to orgasm, which she says is tough to do. Olivier puts on a glove and slowly works it into Kylie. Kylie taps Oliver's nipple with a cane while being fingered. Olivier picks up the pace getting strong results from Kylie. She slaps with the cane and bites again.  Kylie keeps using the Hitachi while Oliver continues with fingers. Oliver is successfully in bringing Kylie to a big orgasm. They kiss for a while and Kylie playfully pulls Oliver on top of her by pinching and pulling nipples. They enjoy their last bit of pinches with kisses.
In the behind the scenes footage, Kylie and Oliver talk about how much they enjoyed the shoot. Kylie loves to administer pain while Oliver is highly turned on by it, to the point of bringing them to orgasm. Oliver loves that they can trust Kylie to do the things they like. You can tell they felt very comfortable and relaxed to push things slightly all while maintaining a lighthearted undertone. Kylie loves how Oliver pushes her buttons. She refers to this type of play as "consensual non-consent" which, as a kinkster sub myself, I find really hot. Kylie manages to balance out her strong dominance with reassurance. You never feel like Oliver is not also in control of what is going on. They talk about how important trust is and how much Oliver really enjoyed it. Kylie tells us that for her BDSM is emotionally charged and if that's not there it's not going to work. It's so much sexier when people are really into it. Kylie is right about that as their connection during the scene made it very sexy.
While the D/s elements of the scene were important, Oliver's top surgery was the underlying current. The intense nipple play was significant to Oliver as they are aware sensitivity and feeling will be different after surgery. A memorable moment for Oliver was when their nipple piercings came out. Oliver had been reluctant to remove them even though they needed to come out before surgery. Having them come out unintentionally during play helped them get past this challenge.
There is so much covered in the behind the scenes shoot it almost needs its own review. There is a great discussion about the challenges during shooting (including when Kylie knocked a picture off the wall!) and their own thoughts about their kink and how it relates to their work in queer porn. I found it really interesting that Kylie felt vanilla porn was inherently degrading, something that turns her on, so she finds them more interesting than kink movies. For Oliver, The Crash Pad Series was the first place they saw queer performers who look like them and love sex the way they do which was very powerful. They talk about their personal experiences, how they started in porn and how The Crash Pad Series provided them with an environment where they can be free to do what they like. Giving Kylie and Oliver freedom of expression in an accepting environment makes this one very hot episode.
Full Disclosure: We did not purchase this product, it was sent to us specifically for review. Our policy is to, regardless of how we acquired a product, review it fairly and openly. No writer for Life On The Swingset will ever deliberately mislead our readers into believing that a product is good because of anything we received from the company. We are open and honest, and cannot be bought or bribed. If we love a product, we'll tell you, if we don't, BELIEVE us, we'll tell you that too. End disclaimer.