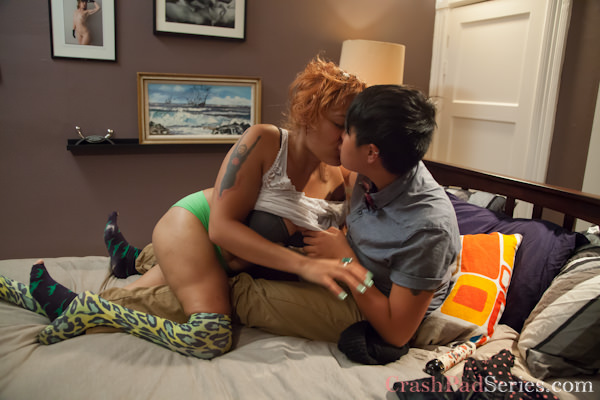 In Episode 133 of The Crash Pad Series, J-Bird and Lyric Seal have stopped at The Crash Pad before going to a party. Lyric is trying to pick an outfit to wear. J-Bird chats while watching Lyric go through her outfits. J-Bird offers which outfit they like then, somewhat bashfully, also tells Lyric they would like to take them to the party as a date. It's a bit awkward for Lyric who insists it's not that they feel weird about J-Bird its they just don't like the word "date." Lyric would like to go with J-Bird but wants to considering it as hanging out. They agree then J-Bird asks if they could give them a kiss and they accept.
They soon become entangled in kisses. Then Lyric giggles and pushed all their stuff off the bed. They continue to get more and more passionate with every kiss. When J-Bird tries to put Lyric's strap back on her shoulder they instead ask them to take it off.  J-Bird helps Lyric out of their top and they kiss even more passionately. J-Bird runs their nails down Lyrics arms, touches their breasts and tenderly strokes their hair. Lyric loves this. Lyric offers to undo J-Birds pants but laughs and says they can't do it by themself. J-Bird offers to help. "It's like teamwork", J-Bird says "Like we've been friends for a while." J-Bird just warms her heart. Lyric lays back on the bed then they continue to kiss and touch. J-Bird kisses down then up their body roughly touching their breasts then countering it with soft teasing touches.
Lyric put her fingers in J-Bird's mouth where they are sucked and licked. Lyric likes to tease J-Bird with their words prompting them to laugh warmly with each other. J-Bird turns Lyric over and kisses their back and the back of their neck. J-Bird runs their nails down Lyrics back then they continue to kiss with increasing intensity.  Lyric finishes undressing J-Bird then licks and sucks her nipple while their hand works on their breast. They joke about being fashionable late to the party which brings more laughter. Lyric on top kisses J-Bird's neck and shoulders. J-Bird notices Lyric has brought a pretty floral vibrator with them and asks if they are going to use it. Lyric coyly asks if J-Bird wants to use it on them.
J-Bird turns on the vibrator and tells Lyric to hold it while they do other things to them. J-Bird plays with their breasts and nipples while kissing and teasing them with their tongue all while Lyric has the vibrator held in their panties. J-Bird sucks, licks and bites Lyrics nipple while watching their ecstatic reactions. J-Bird rolls Lyric over then kisses her back, rubs her ass and thighs as the vibrator does its work. After many kisses, licks and rubs J-Bird takes the vibrator in hand to work Lyric to orgasm.  Lyric is so happy after she is singing softly.
Later J-Bird takes out a Tantus Feeldoe and shyly tells Lyric that they brought it just in case they met someone at the party. J-bird plays and works the Feeldoe in them while Lyric watches. Once the Feeldoe is in place J-Bird puts a condom on it while Lyric lightly strokes their body. Lyric sucks on the Feeldoe rhythmically getting J-Bird increasingly close to orgasm. Lyric alternates between using their hands and mouth on the Feeldoe. Lyric lightly jokes with J-Bird, asking them to talk about their experience while distracted by the Feeldoe, when the condom breaks. They replace it with another and this time J-Bird holds it while rubbing it along Lyrics breast and lips. Lyric leans over and puts it between their breasts and rocks J-Bird to satisfying orgasm. In the end, it looks like they're not going to make it to the party.
There are great candid remarks in the Behind the Scenes bonus feature. J-Bird and Lyric are so adorably giggly yet serious and sincere while talking about themselves. They reveal how they felt about working on this shoot and in porn in general. J-Bird liked that they played more with a character, something they hadn't really done before at The Crash Pad.  They found it interesting and challenging.  Lyric had some anxiety before they got there mostly because they are physically disabled but was able to get over that. Lyric has only done photoshoots before so this was their first time on video. They want to do more to increase the visibility of disabled people in porn. J-Bird does queer porn because she enjoys it especially in the safe spaces. They think it's healing to show they are not afraid.
I was actually surprised to find out Lyric was disabled. I usually don't read the bios before I view an episode, saving it for later,  so I didn't realize Lyric was disabled until I watched the Behind the Scenes footage available with the episode. I hope Lyric can continue to represent the disabled community with their great performances. Their interaction was wonderfully shot and edited so as to not showcase their disability but their ever-capable sensuality. I also liked that this scene was very hot yet neither participant took their underwear off. The Crash Pad series really shows that sexy is more than just naked abandon. It can be steamy semi-clothed intimacy as well.
Like what you're reading about The Crash Pad Series? Why not subscribe now and support The Swingset?
Full Disclosure: We did not purchase this product, it was sent to us specifically for review. Our policy is to, regardless of how we acquired a product, review it fairly and openly. No writer for Life On The Swingset will ever deliberately mislead our readers into believing that a product is good because of anything we received from the company. We are open and honest, and cannot be bought or bribed. If we love a product, we'll tell you, if we don't, BELIEVE us, we'll tell you that too. End disclaimer.