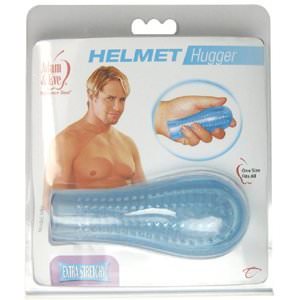 "With a name like Helmet Hugger…"
There's a reason that I don't trust most strokers (Re: There's a reason I ONLY trust Tenga Eggs) they're mostly shit.
When I was handed the helmet hugger by the lovely people at Chicago's awesome Early To Bed boutique, I looked at it skeptically because it had a lot to live up to, and it wasn't winning me over with the smarmy picture of "Model:Mike" on the box. The lack of materials listing on the box and that wonderful smell assured me it was made from nothing but the finest phthalates. I mean "jelly." But, FOR SCIENCE, and all.
So it's an elongated bulb with a hole at one end. Starting with a narrow opening, it "blooms" into the wide bulb at the end. Inside, it's filled with nubs, the kind of plastic outcroppings one used to find on your finer wacky-wall-walkers. So, removing this toy from its wonderful clamshell packaging, I was immediately struck by how small the hole seemed, despite being "One Size Fits All."
I grabbed at the sides, stretched it all the way open and then let it go, feeling it CLAMP DOWN on my (if the head is the helmet, I suppose the shaft would be) trooper. VERY tight. Like uncomfortably tight. I immediately regret not having slathered the thing in  lube first, but I'd just been curious if it would be big enough in the first place.
I grappled with it to open it back up and poured a healthy helping of Liquid Silk down the gullet. So, first thing's first. It SEEMS like this toy is meant to grab hold of your shaft and then be worked up and down around the frenulum. Which seems like a good plan, after all this is how Trojan Ecstasy condoms are designed. What works against this thing, though, is the sheer number of nubs inside, how long they are, and how poorly laid out they are.
Nubs like this are the result of someone who doesn't use strokers saying "Hey, I have an idea!" after returning from a car wash. Or a vigorous scrubbing.
But does it WORK, Coop?
Meh.
Yeah, after all that, and all the factors working against it, it's not especially terrible. Once the lube got worked around inside, it became a bit smoother. Though the fact it was clamped down on me really made the range of movement minimal. Now, one has to weigh the "not especially terrible" glowing review against things like the material which is enough for me to chuck it in the bin immediately, Smug Mike sorta half grinning at us from the box only further infuriates me.
Not good. Not good at all.
Full Disclosure: We did not purchase this product, it was sent to us specifically for review. Our policy is to, regardless of how we acquired a product, review it fairly and openly. No writer for Life On The Swingset will ever deliberately mislead our readers into believing that a product is good because of anything we received from the company. We are open and honest, and cannot be bought or bribed. If we love a product, we'll tell you, if we don't, BELIEVE us, we'll tell you that too. End disclaimer.