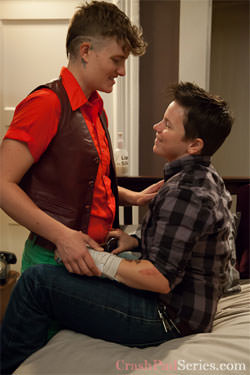 I was really excited to have an opportunity to review an episode from The Crash Pad Series. For those unfamiliar, The Crash Pad Series is based on the award-winning feminist queer porn film The Crash Pad by Shine Louise Houston. The site continues the theme of the film, a San Francisco apartment where a voyeuristic landlord supplies keys to the pad's pleasure-seeking occupants so that she can observe their sexual escapades through hidden cameras. In each episode we see a wide range of sexualities and gender identities engaged in body positive unscripted authentic sex. Real people, real bodies, real connections. The series showcases the wide variety of sexiness that is out there. Not only do we see a vast array of sexual and gender identities, we also see safe sex, kink, toys, role-play, gender play and more.
I signed onto crashpadseries.com to find a new episode, #130 with two brand new models, rife and Vespur. In this episode rife has injured their hand playing rugby so Vespur suggests they take it easy. The first gentle kisses become more passionate and urgent. Unexpectedly rife takes a more dominant role as their kissing becoming a mixture of rough intensity along with playfulness. I liked how even while Vespur enthusiastically revealed rife's strap-on cock, rife pulls out a condom and it is promptly put on before the oral fun begins. The sucking, biting and licking that follows is very hot. The feeling that they are really into each other is palpable. All through this are plenty of eager kisses interspersed with warm laughter.
rife peels off Vespur's clothes while teasing with fingers and kisses. The intensity increases with Vespur being sucked and licked which elicits much squirming and bucking. During this rife uses their injured arm to pin down just below Vespur's throat. rife is a very sexy top! Vespur then suggests putting on a glove. rife's gloved hand caresses Vespur's body. This is followed by some amazingly hot and intense fisting. Vespur's orgasms come wave and after wave and they turn out to be quite the squirter. Just when you think things can't get any more intense they end with an arousing round of anal sex.
It always amazes me how The Crash Pad Series does so much in this small simple room in each episode. It is such a pleasant change from the large gaudy Hollywood mansions and the grubby Valley hotel rooms that typical porn is shot it. The lighting is warm and natural and there is a soft film look that adds to the intimacy of the scene. You are always reminded of the voyeuristic intentions of the series with the insert shots of the "key master" watching the scene on a computer screen included in the scene. This never takes away from enjoying the scene, thankfully. I also don't mind the focus going in and out, it's rather subtle and never distracts.
I especially appreciate The Crash Pad Series making the choice to not show everything in a scene. There is something delightfully erotic about having certain moments partially blocked or focusing on facial expression rather than just on genitalia. What makes this and other episodes so enjoyable is the honesty of the people in the scene. Vespur and rife have wonderful chemistry together. I wondered if they are or have been partners but could not confirm this on their character bios. I loved that their heated kisses were colored with lots of laughter. They were truly and honestly enjoying being with each other.
There are few "go to" sites out there that produce queer porn as well as The Crash Pad Series. Viewing episodes requires a subscription but there are preview clips, photos, bios and a blog available for free. Membership is well worth it. You get a different experience with each episode. I really enjoyed this one and look forward to see what they have coming up next.
Full Disclosure: We did not purchase this product, it was sent to us specifically for review. Our policy is to, regardless of how we acquired a product, review it fairly and openly. No writer for Life On The Swingset will ever deliberately mislead our readers into believing that a product is good because of anything we received from the company. We are open and honest, and cannot be bought or bribed. If we love a product, we'll tell you, if we don't, BELIEVE us, we'll tell you that too. End disclaimer.