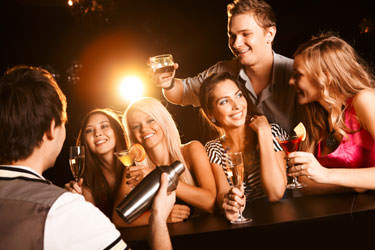 The last few months Mr. D and I have been trying to increase our success rate in the Lifestyle. Ultimately, the Lifestyle is a numbers game—for us at least, only half of the plans that we try to make work out. And from talking to friends that is typical. So we are trying to increase the times we get out there and have dates. We are also trying to attend Meet and Greets whenever possible to increase the possibility o.
As a part of to this strategy, we have come to appreciate the value of the Meet and Greets—Lifestyle socials at vanilla places. While we have attended Meet and Greets in the past, my amped up focus on sex made them frustrating. We viewed them as an opportunity to find a couple to play with that evening. If you did find a match for the night, then you had to figure out where to go to play. It isn't easy like it is in a club.
Recently, we have focused instead of perceiving Meet and Greets instead them as long-term opportunities for meeting swingers and to establish connections with many couples that we can then build upon later. I suppose that is the true intention of such events, but it took us a while to "get it"! We are also trying to build friendships/networks of other couples in the Lifestyle that we can tap into later by coordinating evenings out in the future. By building connections, we reduce our changes of people flaking out for future dates. Or at least we hope so.
At Meet and Greet events, having this different perspective means that we act differently. We work the room more rather than focusing in on one couple. And we tend to split up more and then circle back as we meet more people and build connections.
We are also less discriminate in contacting couples before the event because our goal is to meet a maximum amount of people to assess if the might be a couple we would want to call for a date in the future. So Mr. D emails many more couples and introduce ourselves. That alone creates an ice breaker because then we can say "Hi! Aren't our Ron and Sheri from SLS? We are Mr. and Mrs. Doubleplay. We emailed you this week." They can choose to walk away but often that is enough to begin a conversation that might feel awkward in the past. We are also less nervous talking to couple because the stakes aren't as high for that evening.
Our Meet and Greet strategy ironically has led to better hook ups the night of the Meet and Greets–even though that is no longer our primary goal. Rather than putting our eggs in one basket by pursuing our couple of choice, we meet more people.
When we do focus in on one couple, and they seem to be very focused on us, we are always surprised when then things don't work out. They get tired. Have to get up early. Or they fade away after a while. By working the working the room better, we had other options for that night and beyond.