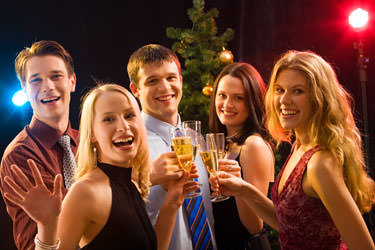 I am a collector of people. I surround myself as much and as often as possible with friends and loved ones. Solitude is an occasional need, and I enjoy it thoroughly when I allow it for myself, but overall what I need, what I want, is family.
I'm close to my actual family, I see them regularly, we go out to eat, we watch movies together. But there are things you don't talk to your family about. Not because they wouldn't understand (though they may not) but more because they're just not things you talk with them about. Some do, I'm sure, discuss sex with their parents or siblings, talk about those dark and dirty secrets, joke about times they were drunk, times they were high, times they did things that they most definitely shouldn't be doing.
I am not one of those people.
I share things with my family that they need to know, that I think would be valuable for them to know, that I think would benefit me to have them know. These are all good reasons to share. But for most of this we do need to draw our comfort elsewhere, from our other family.
For many this family is as small as "spouse," and again, that may well fill their need fully. They may have that sole confidant role filled, and they may be able to tell each other absolutely everything.
I am also not one of THESE people.
Before opening up, Marilyn and I certainly did not have a "tell each other everything" marriage. I think on good days we had a tell each other sixty-five percenter. At that time I had many confidants, ranging from long time friends, to ex-girlfriends, to new friends who had the misfortune of "asking." I'd listen to their problems and issues, I'd identify with what I could, I'd dispense the advice that's asked for (and often advice that wasn't asked for) and then hope for a return of the same from them. This was my proto-family.
Also before opening up, Marilyn and I would throw endless parties, movie nights, dinner nights, gatherings, get togethers. It was for a very different reason then. We were longing to extend the comfort of our small family with many more. We knew, even if we didn't quite say it to each other, that alone we weren't enough to carry each other's matching baggage. Then it was to hide a bit. Then it was to obscure the communication problem that eventually came to a head and found us "open," as unlikely a term/prospect as we could imagine at the time.
It's hard to believe that years later we're doing the same kind of collecting that we did then, but now for very different reasons.
I believe that anyone embarking on a life of non-monogamy (be it swinging, polyamory, or really any form of alternative lifestyle that might shock/appall/offend the "straights") needs one thing above all other.
Community.
Community is what teaches us that we are not alone. It reinforces that, despite the fact that all the network criminal investigation shows might portray your little niche of the sexuality spectrum as serial killers (or worse, jokes), there are in fact others like you. In most cases, hundreds, thousands, millions like you. I think that the discovery of these people is the single most important part of your opening up. For obvious reasons, you can't swing or be poly alone. But beyond that, it's easy to get discouraged when you make a mistake. Or feel like it's not working. Or stumble. Or get that jealousy bug that websites like this one try so hard to tell you is bad. You need people you can talk to.
Personally, when I look at the swinging spectrum specifically, I see a disproportionate amount of people who swing like we do. With friendship, with closeness, with community. We have a group of friends who we interact with, who know each other and like each other. We see many of our swinger friends in non-swinger environments, from barbecues, to even family birthday parties and graduations. In our group there isn't any of that concern that "what if someone who doesn't know met my friends…would they suspect?" We want to be surrounded by our open friends as much, if not moreso than others.
And so we've built this new family. A group of people whose lives are all very different, who if you saw them interacting at a party you'd be hard pressed to figure out what this group has in common, yet who all care about each other's lives and needs, and are willing to throw down and do anything they can to help. I treasure those we've met in the swinging lifestyle, and I look forward to the uniqueness of family that polyamory is sure to bring.