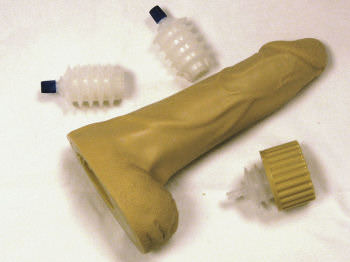 I put forth a challenge to our listeners, to find me a high quality silicone dildo that could ejaculate. My specifications were a bit stringent perhaps, but I only asked for what I imagined the target market would want. I wanted it to be made of quality non toxic and easily sterilizable silicone, I wanted it to be realistic (and human), I wanted it to be able to be used with a harness, and to be easily refillable with the lube of our choice. These things were important for me for many reasons.
Ginger summed up the non-toxic issue very simply, if you need to use a condom on it, what's the damned point. I agree. Human and realistic, well, just a personal preference. Harness usable because again I felt what's the point, if you're holding an ejaculating cock in your hand, the illusion is definitely broken…unless we're attempting some Edward Penishands cosplay. And dear God who would do that? Easily refillable with the lube of our choice? Well most companies that make toys don't make lube, and those who do often don't make good lube. Besides, we already have our favorites.
So, we received the Ejaxxulator. Human and (somewhat) realistic, certainly. It's a pretty good size white male cock and balls. The other three qualifications remained to be seen. Firstly, it arrived with several small accordion containers with their proprietary lube in them. (The lube also was fruit flavored…so, c'mon, another weird illusion broken.)
Marilyn and I were very skeptical, as it didn't mention what it was made of anywhere on the packaging. An email to the company assured me it was made of body safe silicone. Though the (for FDA purposes) warning on the box saying for external use only, which only made me nervous. Marilyn shook her head no, and I was inclined to agree on the subject of this dildo going inside either of us sans condom, and again, if she's going to have to pull it out, remove the condom, and THEN shoot the strawberry flavored lube on me, or vice versa, what's the point.
Another specification down as it's not designed to be used with a harness. So it's not, you say, that's not what it's for. Maybe it's for solo use by hand, to then shoot the pseudo-cum inside, or on the stomach, or something of that nature. While this made me grumbly, I concede that this isn't necessarily a fault with the product, more a fault with my expectations. So while harness use would've raised its esteem for me a bit, I won't detract from it.
Since there was no way we could discern to use our own lube with the product, we decided to just throw their flavored lube in and give it a shoot. I removed the tiny foil cap from the lube shooter, twisted it into the hole on the back of the dildo and tried to screw the cap on behind it, which no longer fit.
Sigh.
Ok, so you're supposed to press in on this back cap and that'll shoot out the lube. Press. Nothing. Press harder. Nothing. I removed the back cap and checked to see that everything was lined up properly. It was. So I pressed my thumb into the small accordian capsule, which immediately collapsed upon itself, clogging the cum tube with plastic debris.
Twenty minutes with a Leatherman knife and a pair of tweezers and we managed to get the tube unclogged. I peeled back the foil on another "cumsule" (I forgot they're called that) and twisted it into place. Again the back cap didn't fit, but at least this time, the thing didn't collapse, and pressing my thumb firmly into the back yeilded AN EJACULATION!
Unfortunately, it was an extremely underwhelming ejaculation that simply dribbled out of the end of the dildo. And rather than shooting onto Marilyn's waiting tits, it hit my knee and the bedspread. Quite disappointing.
Determined to get something that looked like an ejaculation out of this thing, I squeezed all of the strawberry lube out of the cumsule and filled it with water (noting that maybe we can use it with our own lube after all). I returned to the bed where Marilyn lie yawning, depressed the cumsule and again produced an extremely underwhelming shoot.
I grumbled back into the bathroom, pulled the cumsule out and just let the faucet run directly into the dildo, filling the entire cum tube and back with water. I put my finger over the hole, returned to Marilyn, held the dildo up to my mouth and blew all the water out, producing the first and last semi reasonable looking ejaculation from The Ejaxxulator. Marilyn laughed and then told me to go wash my mouth.
Disappointing on every front. Perhaps one day I'll find an ejaculating dildo of some value. But it was not to be this day.
Full Disclosure: We did not purchase this product, it was sent to us specifically for review. Our policy is to, regardless of how we acquired a product, review it fairly and openly. No writer for Life On The Swingset will ever deliberately mislead our readers into believing that a product is good because of anything we received from the company. We are open and honest, and cannot be bought or bribed. If we love a product, we'll tell you, if we don't, BELIEVE us, we'll tell you that too. End disclaimer.